get elephant's newsletter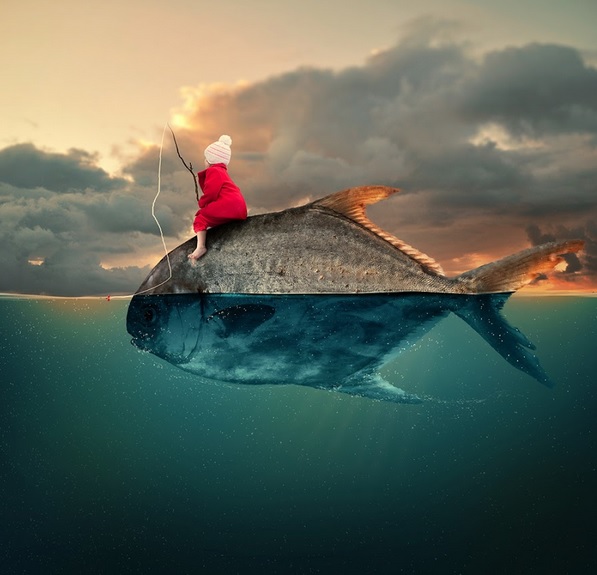 It's time to take a chance, fish, and jump out of the bowl.
During an episode of Orange is the New Black that I watched last night, the main character Piper was told by her husband that her life in prison was a fish bowl and to try not to get caught up in it. Her reply:
"I have to live in this fish bowl. It's hard."
It is hard, isn't it? Being aware of anything outside of our own little fish bowls, I mean.
My fish bowl consists of my family, my home, my pets and my career. Millions of us all have similar bowls, like they're created, assembly-line style and set out on a pet shop wall.
And they are, aren't they? Our lives are mass produced by the expectations of societal norm. It's easy to forget to turn our heads and look through the glass.
As an exercise, while writing this, I tried to be aware of and learn something outside of my little existence and it was difficult! First of all, as the nature of my personal fish bowl dictates, I am doing about five different things at one time: working, writing, making a phone call, thinking about meal planning for my family and battling a case of the sniffles. Where, in all of that, is the time to be aware of anything else?
So, pause. Sit. Think. What is outside of my own little fish bowl that inspires me, that makes my heartbeat quicken, that makes me yearn to be, to do?
First of all: elephants.
My love of those giant beauties is what brought me to elephant journal in the first place. This one little (and amazing) corner of the cyber world has essentially sent me flying fast and furiously out of my fish bowl in so many ways. I've also discovered a new life goal, which is to save money towards a family volunteer experience in Namibia with the EHRA.
Secondly: culture.
What's it like to be a mother in Germany? What type of job could I get if I moved to Singapore? Would I like the typical foods prepared in Guyana? How can I be so sadly uneducated about the world around me? It's time to start exploring and appreciating the many cultures at my fingertips.
Perhaps I could learn a thing or two in my quest to be a better parent, employee and cook. Having a shift in perspective, brought on by examining how other people across the world navigate their lives, can be a huge life blessing.
Lastly: people.
As many of my friendships fade away and new ones sprout like seedlings in a garden, I realize that I have been allowing my insecurities and "busy" life to shelter me from meeting new people. I've been visiting the same little fish bowls and while they are valued parts of my life, I have been ignoring an entire ocean of possibilities.
Other people are a constant source of learning and enjoyment in my life.
The lesson here is that we need to make time to slow down and start looking outside of ourselves. We have to be still and we have to remove our minds from the jumble of daily life.
Jump out of your bowl. Fly out of your bowl. Learn, experience, think and wonder.