get elephant's newsletter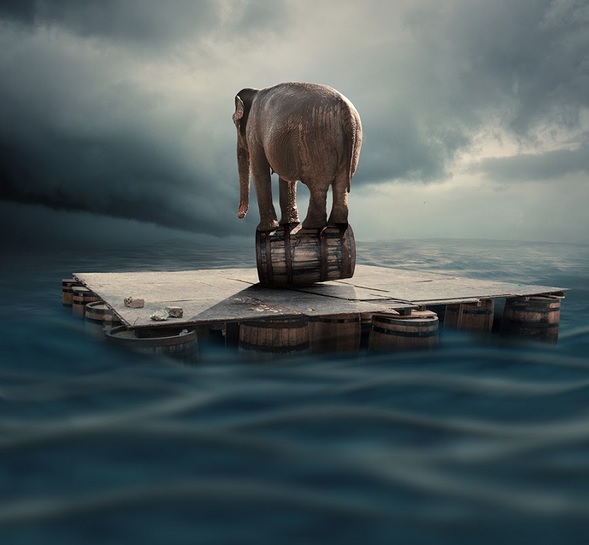 As a yoga instructor and practitioner of Engaged Buddhism a la Thich Nhat Hanh, I cultivate the recognition that the lives of all species are interdependent on all of us.
Let us take the namesake animal of our beloved elephant journal, and get literal.
To support the lives of these magnificent creatures, it takes more than abstaining from the purchase of ivory; more than posting short videos of baby elephants splashing about.
In fact, it takes our love, put into real, tangible, concrete actions.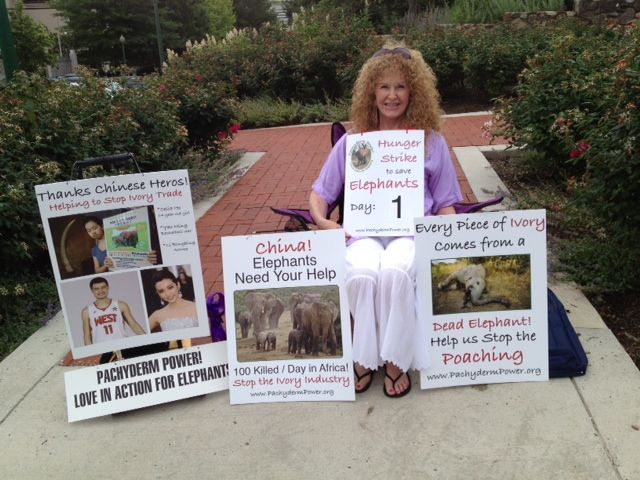 Meet a local luminary, shining light on this path: Denverite, Kristal Parks, founder of Pachyderm Power! Love in action for elephants, an organization dedicated to the protection of Asian and African elephants. Like you, Kristal loves elephants!
Like you, she does not want them to become extinct. Like you, she is aware that the current trend is rapidly pushing these awesome beings to the brink.
By some estimates we have only a couple of years before we reach the no-turning back point.
Kristal is one of those wonderful human beings whom we can all strive to be like. Recently, despite multiple obstacles, Kristal stayed her course to undertake a 10 day fast and vigil in Washington, D.C. Her goal was to bring loving, compassionate awareness to the cause of elephant conservation, directly outside the bastion of the world's leading consumer of ivory, the Chinese embassy to the US.
Like a master practitioner of the dharma, she sat vigil and transformed her heartbreak into the medicine that heals all wounds, the medicine we are most likely to tuck away, the medicine that dissolves the small self, and opens us to mystery.
That medicine, you already know, is love.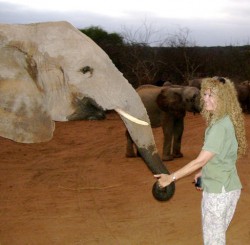 As mystery would have it, she received all the support she needed just days before her departure. Basking in the sweetness of this grace, she beamed,
"Not one penny more, not one penny less!"
And there she sat, taking only water, transmitting love, smiling to the
Chinese ambassador as his black limo drove slowly by, conveying that the salvation of this great species depends largely on his fellow countrymen.
Here is a wonderful reflection for so many of us grounded practitioners who are challenged with the state of the world and our relationship to it:
"Dharma practice without action is narcissistic and action without dharma practice is just moving the chairs around."
Yes, thank you for that Ms. Parks.
Since we cannot escape action, perhaps we can hone it so that it is direct, effective and rooted in love. Perhaps we can take the advice of Thich Nhat Hanh and:
"Embrace the garbage so that we can turn it into flowers."
So back to elephants, here are some sobering facts:
And a few wonders:
Elephants are highly evolved beings, expressing many cherished behaviors such as compassion, empathy, solidarity, self-awareness, and yes, it is absolutely true, an astounding memory.
Elephants have rich emotional lives, actually shedding tears when sad, and celebrating the birth of new infants by trumpeting, dancing, waiving of trunks, and happily defecating (my new favorite way to party!)
Elephants know what is happening to their population and it has altered their behavior in many ways; yes, that does mean that they exhibit self-awareness.
So, beyond posting the videos that make "squee!" what else can we do to help in a tangible way? Here are three suggestions:
1. Employ local Kenyan patrolmen to keep poachers out of elephant habitats, provide subsistence farmers beehives that protect their crops from hungry elephants, and fund educational outreach in Africa, by Africans by making contribution to Pachyderm Power!
2. Volunteer your time and/or technical skills by staffing the Pachyderm Power! booth at local festivals or by developing social media outreach.
3. Host a fundraising presentation event to spread the word. This is a sure way to get your audience to fall in love with elephants and support the intentions of their good hearts with concrete support for these magnificent creatures. Kristal Parks can offer these presentations in person.
4. For a purposeful adventure, join an Elephant Eco-Tour to Kenya.
Brothers and sisters, thank you for taking solid steps in the direction of love.
The lives of many creatures are depending on our awakening made real in this beautiful world.
Ed: Cat Beekmans