get elephant's newsletter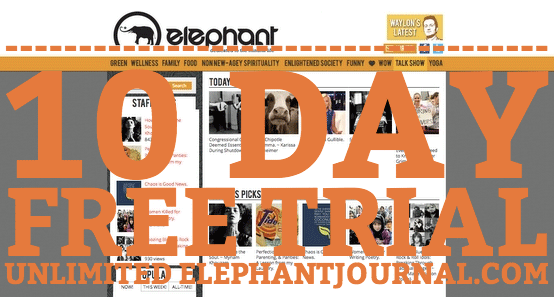 Love elephant? Would you possibly consider sharing this link?
Want to read unlimited elephantjournal.com articles?
Sign up now for a 10-day free trial: http://members.elephantjournal.com/
Take us for a spin. Are we worth your time? Do we contribute to your life? Would you like to be a part of our 11-year, independent, mindful, fun yet fundamentally serious community? ~ ed.
Read unlimited elephant for 10 days, free. Then, cancel after the 10 all-you-can-read days and be done with us! (you'll still get 2 free reads every day, and 15 more if you get our weekly newsletter http://www.elephantjournal.com/join-the-cause
Or if you like us, value us, join our mindful community for $1/month forever and never leave us.