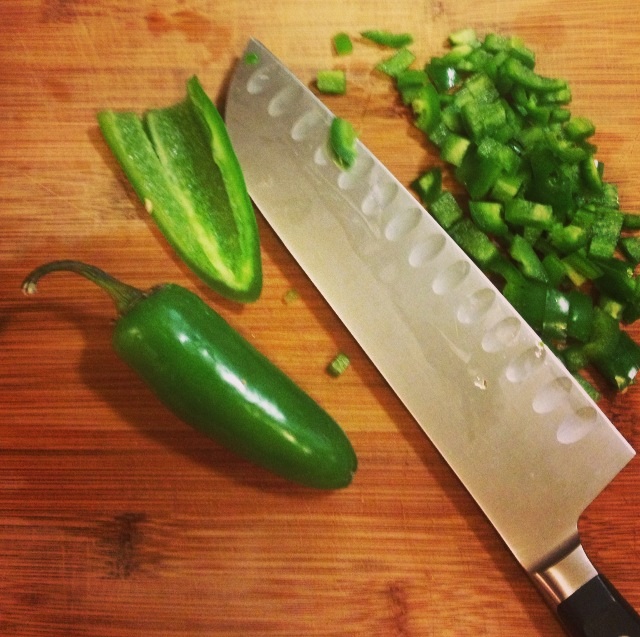 The winter season!
(Okay, I live in southern California, so "winter" doesn't actually mean much.) Nonetheless, it's the time of year that temperatures drop…a bit. And so, this marks a fine time for stewin' and brewin' things!
One of my favorite things to enjoy on a brisk winter evening is a hot, heaping bowl of chili! Now as you may or may not know, I'm not particularly well versed in culinary skills. But I've been trying to improve! I never used to care for cooking much in the past, but lately I've really been enjoying cooking together with my husband.
We share a love for chili, and now that we are striving to eat more of a plant-based diet, we decided to create our version of an all-veggie, organic chili recipe.
Here's the thing: my hub isn't the biggest fan of the "meat-substitutes" that are available. (I happily devour boca burgers and tempeh bacon!) So, our intention was to create a meat-less, yet still hearty vat of delicious chili, sans any fake-meat product.
We have experimented with a few different batches, and have now come up with a recipe that fills our bellies and keeps us going back for seconds. (Nom!)
I hesitate a bit to say "recipe" because even when we do loosely follow a recipe as a starting point, we like to tweak things and make it our own. That's what makes cooking fun, getting creative!
So, with that in mind, we'd humbly like to share with you: Our tried and true, hearty vegetarian chili guideline.
(Remember to use organic ingredients whenever they are available!)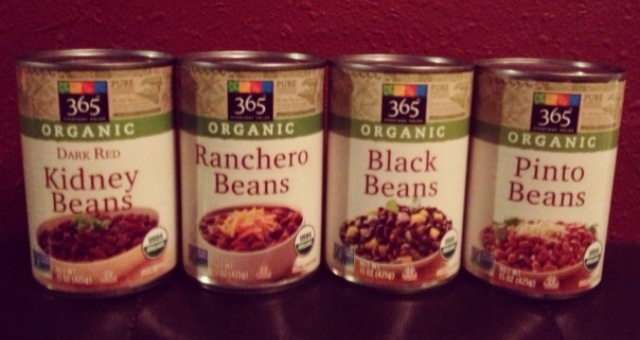 Items you will need:
3 jalapeños
1 red onion
1 red bell pepper
2-3 shallots
8 cloves garlic
6 cans of beans: combination of black, pinto, and red or kidney beans.
1 large can of diced or crushed tomatoes (or fresh, if you prefer.)
1 small can of tomato paste.
Spices: Chili powder, oregano, cumin, paprika and cayenne.
(Craft) Beer: Approx. 24 oz. of a stout or porter.
Optional: 1 (very spicy) Chile de arbol.
Ready to get cooking? Let's do this!
First, dice or mince the garlic, onions, shallots, bell pepper and jalapeños.
We like things spicy, so we don't de-seed our jalapenos. Leaving the seeds increases the spicy factor. However, if you prefer just mildly spicy, we recommend de-seeding two of the jalapenos, but leaving the seeds in for the third.
Next, as my husband would say: Sauté that shit! (with a bit of olive oil)
Go ahead and use the big pot you will be stewing your chili in. When the veggies are a little cooked turn off heat, then add the beans.
This is our preferred combination:
2 cans black beans
2 cans pinto beans
1 can kidney beans
1 can of ranchero style beans (these are actually also pinto beans that have already been seasoned.)
Drain the water off the pinto and kidney beans, but save the water from the ranchero and black beans to add to your chili mix. You can tweak this as you desire, but keeping the black bean juice is key.
Now add the diced (or crushed) tomatoes and the tomato paste.
Mix everything up, and next add your spices. Feel free to add or omit spices as you like. Get creative!
We suggest the following guidelines:
3 tbs chili powder
3/4 tbs oregano
3/4 tbs cumin
Paprika, cayenne and cracked black pepper to taste.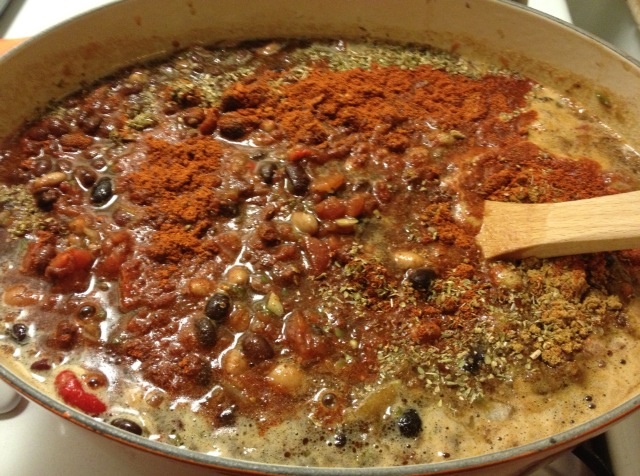 We used to religiously use Guinness as our beer base, but after learning that Guinness now adds high fructose corn syrup (I was so upset about this), we now opt to use other options.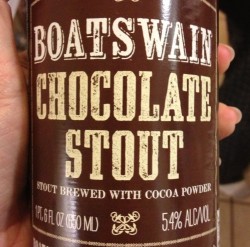 For the batch we cooked up this week we chose Boatswain Chocolate Stout, a craft beer brewed in small quantities for Trader Joe's. (It's yummy and only two dollars a bottle!) Use enough beer to completely cover the mixture of beans and veggies in your pot. We used the whole 24 ounces, and that was just right.
Finally, we add in one chili de arbol. Cut the stem off the top and toss the chili in whole. It isn't meant to be consumed. Just simmering it with your chili concoction will kick things up a big notch. (Again, we like our chili spicy!)
Once all the  ingredients have been added to the pot, turn the stove on low to medium heat and begin simmering.
Let the vat of chili stew at least an hour, stirring it occasionally, until you are ready chow down!
We serve it with a garnish of diced green onion and a bit of sharp cheddar cheese.
However, if you skip the cheese (or use a non-dairy option like Daiya) your chili will be vegan!
Enjoy!
Love elephant and want to go steady?
Editor: Bryonie Wise
Photos: courtesy of the author