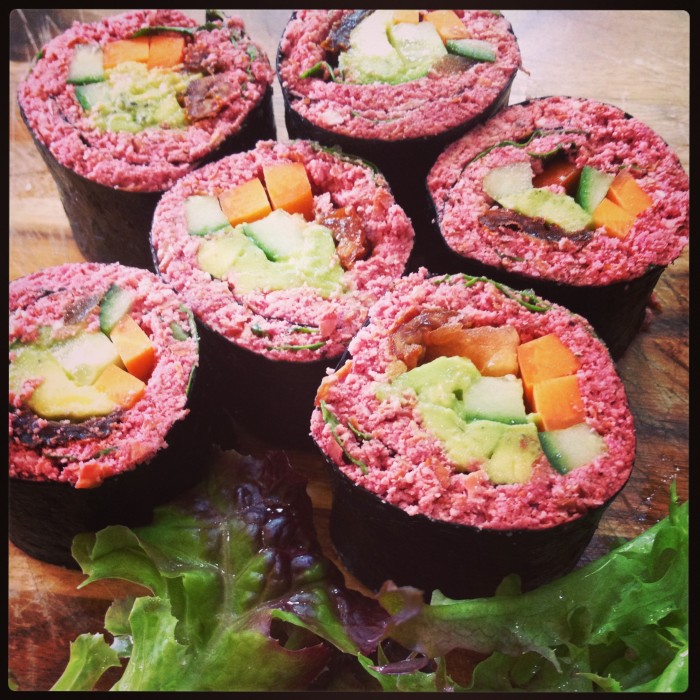 There are many advantages to eating a healthy, plant based diet.
These range from the benefiting your own body and sense of well-being benefiting the greater natural environment and animal industries.
One advantage that doesn't always readily come to mind is the complete lack of wastage and trash that a living foods diet entails.
Taking a broad guess, I am sure that many rubbish bins are full of things such as cereal boxes, milk cartons, pizza boxes, tins from canned products, wrappers from all kinds of chocolate bars to pasta packets, food scraps, cling wrap, ice-cream containers, juice bottles—the list goes on.
A living food diet naturally has a very minimal impact on the environment since it is primarily made up of fresh fruit and vegetables, nuts and seeds, seaweeds, dried fruit, coconut products, super foods, sprouted grains, herbs and spices. These kinds of food staples either require no packaging at all, or can be purchased in bulk at health stores in your own containers an bags that can be used time and time again.
Preparing living food is creative, fun and can also be a 'zero waste' activity.
Intrigued?!
Lets take a closer look…
Juice Pulp
The juice pulp that is left over from juicing is full of fibre and still retains vitamins, minerals, flavor and texture! This pulp can be used to make things such as pâté. It can be mixed with ground sunflower seeds, flax meal and spices and spread on dehydrator sheets to become crackers. I even use it to make a clever sushi rice filling!
One of my favorite Raw Food Chefs, Elaina Love, has a recipe for Raw Mexican Tacos where the veggie pulp is mixed with sun dried tomatoes, olive oil, onion, garlic, chilli, cumin, cayenne, sea salt and miso to make a beautiful and flavorsome taco filling.
Almond Pulp
When making almond milk, the almond pulp that remains in the nut milk bag can be used for various things. It is most often used to make raw cakes or raw breads, and it can also be used to make dips such as almond hummus or almond based pâtés. The almond pulp can be frozen to use when you need it, or it can also be dehydrated and then processed into fine almond flour.
Mix the following in a food processor:
½ cup of almond pulp with ½ cup of pecans
1 cup of soaked dates
5 tablespoons of raw cacao powder
2 tablespoons of coconut nectar
¼ cup of desiccated coconut and a pinch of salt
Spread in a baking tray and store in the fridge—yep, it's that easy!
Speaking of dessert…
When I have leftovers from making green smoothies in the morning, I transfer the smoothie to the freezer and allow it to freeze for dessert!  It actually tastes so good that sometimes ill double my smoothie quantity so I have dessert for the end of the day!
Smoothie
Blend together:
a handful of fresh spinach,
2 small mangos
1 large banana
1 cup of almond milk
1/2 teaspoon of ginger powder
1 teaspoon of raw vegan vanilla protein powder
2 tablespoons of coconut oil
Store the smoothie liquid in your freezer ready for when your sweet tooth calls!
I spent a month working on a retreat in Bali a few years ago where myself and another raw chef catered three buffet style raw meals a day for fifty students. It was a huge learning curve for me in terms of realizing exactly how versatile and transformative working with living food could be.
If we had copious amounts of fruit salad ingredients left over from breakfast we could blend this into smoothies for a mid morning snack or puree the fruit and mix it through soaked buckwheat, sunflower seeds, almonds and coconut to dehydrate into a tropical granola for the next day.
If we had huge amounts of salad ingredients left over from lunch we would blend everything up in the vitamix with some additional herbs, spices and avocado to make a creamy vegetable soup entrée for dinner.
If we had vegetables that needed to be used, we would blend them up and stir through some flax meal before spreading the mixture on to teflex sheets to dry. These would form into flexible wraps that we filled to make vegetable crepes.
I was inspired everyday by the way our creative minds were given free reign to play and often we found that some of our favorite dishes were created on a whim.
At home, I continue to be inspired and love experimenting in the kitchen. Raw food isn't like baking—there are no exact recipes and the fun and ingenuity is in the process of creating and following intuition.
I thought I would share one recipe that I made the other night that I coined 'Up-cycled Sushi' using my left over vegetable juice pulp and almond milk pulp! I do want to make clear that a living food diet is primarily about filling the body with fresh, vibrant, living food.
If you intend to play with this concept of up-cycling and transforming things you may have left over into new creations, make sure that it is done on the same day to ensure everything remains fresh and full of life force.
Anything that does need to be disposed of can almost always be discarded to compost, which is simply another brilliant way to keep the cycle going!
So, if you want to reduce your footprint on the earth, (and enjoy the wealth of other benefits that a raw food lifestyle entails) start getting creative with more plant based living food.
Raw Vegan Up-Cycled 'Sushi.'
1 cup vegetable juice pulp from juicing (beetroot, carrot, ginger and fresh greens works best)
1 cup of almond pulp from making almond milk
2 tablespoons tahini
1 tablespoon tamari
1 teaspoon miso
Mix the ingredients altogether by hand, making sure everything is well combined and smooth. If the mixture needs to be firmer, simply add some more tahini so it all comes together nicely in a spreadable consistency.
Spread the sushi 'rice' over a sheet of nori and add your favorite sushi toppings such as avocado, sprouts, julienne capsicum and cucumber, sun dried tomatoes, fresh herbs, marinated mushrooms or sauerkraut.
Remember to be creative and play with what you have on hand, tasting things as you go to make sure they are balanced in flavor and texture.
Love elephant and want to go steady?
Assistant Editor: Renee Picard/Editor: Bryonie Wise

Image: courtesy Kelly Kaiana