This Saturday, March 22, is World Water Day —a day delegated by the United Nations to recognize the importance and need of safe water around the world.
In honor of this important day, I am thrilled to be working with the Mom Bloggers for Social Good and WaterAid to help raise awareness of the desperate need for safe drinking water and sanitation around the world. Safe water and sanitation transforms lives and is one of the keys to bringing people out of poverty.
Did you know that 783 million people do not have access to safe drinking water?
Step back and think about this statistic for a moment. What would you do if you were not able to simply turn on your faucet and fill up your glass or pot with clean, safe water? How would you manage and care for your family?
To most of us in the Western world, the thought of not having instant access to clean, safe drinking water is literally unimaginable. However, for 11% of the world's population, this is a tragic reality. When you combine having unsafe drinking water with poor sanitation, it leads to diarrhea which kills 2,000 children every single day. Something completely unthinkable to many of us.
Millions of people are trapped in a world in which clean, fresh and safe water is not even a remote option and sanitation is also lacking. In fact, one in three people worldwide or 2.5 billion people—do not have access to a safe, private toilet.
Not having safe water and sanitation lead to dire consequences and sadly reinforces illnesses, disease and death, while significantly contributing to poverty.
In honor of bringing attention to the importance of safe water and sanitation for all, WaterAid has asked that we share our #WaterStory.
When I was in India this past May with Mom Bloggers for Social Good, I saw firsthand how safe drinking water and sanitation needs impact people living in extreme poverty. I spent a scorching afternoon with temperatures climbing almost to 120 degrees fahrenheit touring one of WaterAid's work sites. Here is my story.
My Water Story:
Behind the beautiful, lavish parts of Delhi always lies the most abject poverty imaginable. I have read several books on the slums of India and thought I'd know what to expect when I saw them in person. Yet nothing I'd ever seen in all my years of travel could have prepared me for the stark reality of desperation, misery and despair, of walking through a real live slum in the heart of India's capital.
In the background of the lush green, beautiful grounds of the American Embassy lies the Vivekananda Camp, one of many unauthorized slums that surround every single part of Delhi. We visited this slum as part of our tour with WaterAid, a global NGO that provides safe drinking water and sanitation to areas around the world that do not have access to it.
The stark contrast between the neighboring American Embassy and the Vivekananda Slum were almost too hard to morally comprehend. These two places represent the immense contradictions and inequalities that can be found all throughout Delhi and India as a whole. One of the greatest inequalities ever seen anywhere in the world is right there staring into your face, making it impossible to not feel deeply distraught.
In the Vivekananda Camp, a slum of approximately 500 households, there is no running water, no sewer lines and people live in absolute dire circumstances. Thanks to WaterAid, improvements to sanitation have been made by the building of a Community Toilet Complex (CTC), a compound containing 20 toilets for women, 20 for men and a few for children as well as a couple of showers, providing some sort of dignity in a place where dignity hardly exists.
Less than a third of people ( 772 million people) have access to sanitation in India, and 90 million people in India do not have access to safe water per WaterAid.  Over 186,000 children under five die from diarrhea every year. With 17% of the world's population (over a billion people), the water crisis in India is only getting worse and is becoming life or death for millions of people.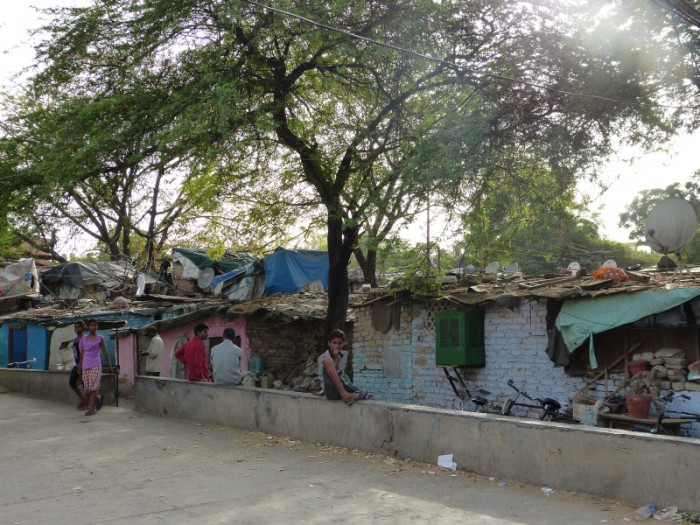 (The stark reality of the he Vivekananda Camp)
When I returned to the United States I was struck by the inequity in something so simple as water and sanitation. A huge wave of guilt and remorse returned every time I turned on the faucet and let the clean water run down the drain.
How can we continue to accept this basic human right and tragedy?
It is time that we stood up and used our collective voice to bring safe drinking water and sanitation to everyone, everywhere in the world. Water is essential to life. It shouldn't be a luxury to the few lucky enough to have it freely.
This post was written on behalf of my meeting with WaterAid India and our tour of the Vivekananda Slum. All statistics are sourced from WaterAid. All photos are mine.
Love elephant and want to go steady?
Editor: Rachel Nussbaum
Photo: Author's own