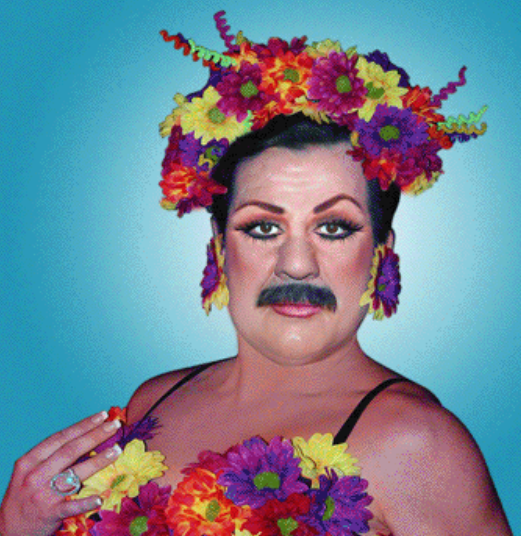 Madame O' Sane (Saddam Hussien)
"…behind every "great" man, there's a queen. " ~ Saint Hoax (artist)
The artist, Saint Hoax, got his inspiration to give makeovers to some of the most powerful and controversial world leaders, shortly after attending his first drag show.
The creative parallels, drawn by Hoax, creates a pointed social commentary about our leaders being treated more like Hollywood celebrities on reality TV shows rather than powerful world leaders.
Hoax says he was struck by the surprising similarities between political leaders and drag queens caming up with this recipe that he later used as a guide for his makeovers.
The recipe for an iconic queen: 1- Flamboyant name
2- Fierce persona
3- Defining outfits
4- Personalized hairdo
5- A trademark feature
6- One hell of a PR team
Hitleria Hysteria (Hitler)
"Like drag queens, political/religious leaders are expected to entertain, perform and occasionally lip-sync a public speech. But unlike drag queens, the fame hungry leaders don't know when to take their costumes off."
Queen Abby (King Abdallah of Saudi Arabia) 
Saint Hoax explains the motivation behind his art on his website by stating:
"History is defined as the study of past events.
I heard about the victorious defeats,
the malicious affairs and the all night long wars.
I read about the dictators,
fantasized about the monarchs and lived below the tyrants.
I opened my assigned history book
and I realized that page 1 is a carbon copy of page 10.
While page 10 is a mere reflection of page 20.
An arti-vicious cycle of no trial, just error.
And the only way to remain entertained
is by rewriting history through visual lies.
One hoax after the other. " 
View Saint Hoax's entire collection of made-over world leaders, War Drags You Out, here.
Love elephant and want to go steady?
          Editor: Renee Picard
          Photos: Pinterest via Saint Hoax