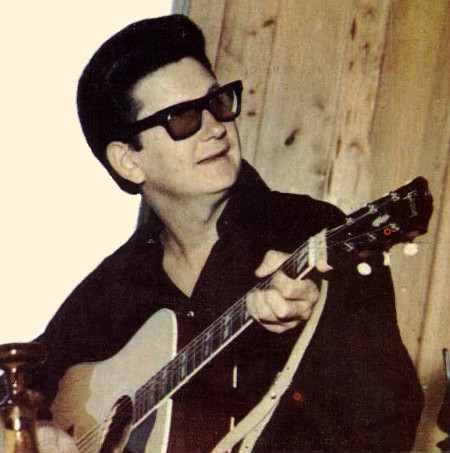 No, not that  big O. When I say "The Big O" I am referring to the late, great Roy Orbison. The man with a voice like silk. The man who can hit a note in a way that makes your knees quiver and brings tears to your eyes.
His voice is powerful. Sorrowful, yet uplifting at the same time.
I've written about Roy Orbison before, sharing that my husband and I consider Orbison's song "It's Over" to be our song.
This time, with Orbison's birthday upon us, I'd like to celebrate the man and his music by sharing some of my favorite Orbison songs. I'd also like to share a few tidbits about his life.
Roy Orbison was born on April 23, 1936. Orbison was not considered a good-looking guy. He was pasty and awkward, not what the recording companies considered "marketable." He became successful because of his talent—his voice.
Orbison was first signed (along with his band The Teen Kings) to Sun Records. Sun Records is notable for having also discovered Elvis Presley and Johnny Cash. In fact, the first time I got a glimpse into the harrowed life of Roy Orbison, was while reading the autobiography Cash, by Johnny Cash.
In his book, Cash talks about buying a property at Old Hickory Lake in Hendersonville, Tennessee to build a new house. Roy Orbison had owned a home built on the same property, but that house burned to the ground, killing two of his three sons.
Tragedy plagued Roy Orbison. In addition to losing his sons in the fire, he also lost his his first wife and his older brother to motorcycle accidents.
To learn more about Orbison's interesting life, check out one the biographies that has been written about him. A good one is Dark Star: The Roy Orbison Story.
In the meantime, here are 10 of my favorite Roy Orbison songs. Take a few minutes to listen and sink into the ocean of his rich, encompassing voice.
1) Only the Lonely – A classic, one you've probably heard before. Great example of Orbison's vocal stylings.
2) Blue Angel – Follow up to "Only the Lonely", released as Orbison popularity grew.
3) Indian Wedding – This was the B-side to "It's Over." An Indian love story set to music.
4) Blue Bayou – Written by Roy Orbison and Joe Melson, this song became a big hit for Linda Ronstadt.
5) Crying – A beautiful and hauntingly sad song. Anyone who's had a broken heart can relate.
6) Lana –  A fun little ditty that will make you wanna dance.
7) In Dreams – An operatic ballad that gained a lot of popularity when David Lynch featured it in his film "Blue Velvet."
8) Workin' for the Man – Another fun booty-shakin' kinda ditty.
9) Claudette – A love song about his first wife, Claudette. I love the raw, punk rock kinda feel this one has.
10) It's Over – My all-time favorite Roy Orbison song. His voice pierces my heart.
If you like what you hear, please share with others. Keep Roy Orbison's beautiful voice alive!
Love elephant and want to go steady?
Editor: Catherine Monkman
Photos: Wikimedia/Klein, Wikimedia, Author's Own