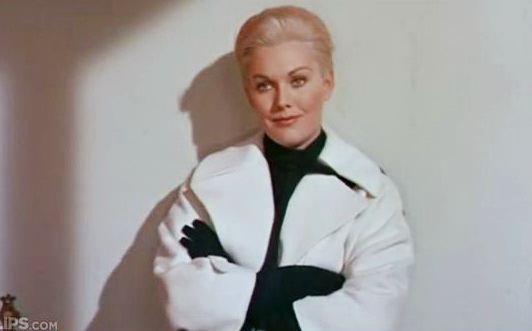 "I want you to love me for me." ~ Kim Novak, Vertigo
Everybody wants to be loved for who they are. This goes for everyone, all creeds, all colours, all everything. It's almost too obvious to mention.
It's so easy to tear people apart for how they look, things they've said and done, for how they choose to be in the world.
We don't have to agree with the decisions people make to respect who they are and how they have come to these decisions. Even when – especially when – we find our respect waning, we can still honour their right to exist the way they'd like, and make sure to scrutinize our own reactions to their decisions and behaviour.
"People take different roads seeking fulfillment and happiness. Just because they're not on your road doesn't mean they've gotten lost … The whole purpose of religion is to facilitate love and compassion, patience, tolerance, humility, and forgiveness." ~ Dalai Lama
How does this relate to Kim Novak?
First of all, any day that's relevant to gush about this goddess of cinema history is a day I can get behind.
Why today?
She's all over the news.
Novak, 81, appeared at this year's Academy Awards to present an award with Matthew McConaughey (for Best Animated Feature). Afterward, there was a lot of slamming going on about her slurred speech and physical appearance.
After the backlash, Novak wrote an open letter to Facebook, on April 18.
Here's part of what she wrote:
"It's time to address the elephant in the room…the Oscars. I was very excited when I was  asked to be a presenter on the show. I was excited, yet nervous. Years ago, I walked away from Hollywood partially because I didn't stand up to the bullies. I caved in to the pressure instead of fighting for what I felt was right…and I didn't have the courage to prove myself to my peers through my work."
I love Kim Novak. I've loved her since I was a teenager who'd started watching horror films at what might be considered too young an age. I barely knew what a film director was, but as soon as I saw Psycho (at age 11), I knew there must have been a genius behind something that could carry me away so viscerally, mentally and emotionally. I had to get more of this Hitchcock guy. Much more.
It wasn't long before I found my way to Vertigo (1958), for that first glorious experience of madness and obsession, Jimmy Stewart and Kim Novak.
Vertigo is 100 percent artistry, suspense, beauty and treatise on the human psyche. Jimmy Stewart is endlessly affable and loveable, and Kim Novak, sublime.
Hitchcock once famously compared his actors to cattle, enraging many by suggesting that all he needed was the right face in the right scene, and he would take care of the rest.
Of course, it does take the right face to propel a film into the realm of magic, and it also takes so many other ineffable qualities people wish they knew how to bottle.
Kim Novak definitely had that face. Along with Jimmy Stewart's hapless character, viewers of Vertigo had the chance to become betwitched by and fixated with the mysterious woman she portrays in the film.
Personally, I admire Novak for leaving Hollywood relatively early, because she couldn't find roles to do her justice.
I'm sure it's not relevant to my feelings about her work and how it has affected me that she went on to inject fat into her face, or whatever she did by way of the plastic medicines.
That's between Kim Novak and herself, just like our decisions are up to us and might be informed by any number of factors no-one else automatically understands – though admittedly, one does set oneself up for scrutiny when one does anything as a public figure.
Kim Novak was more than a pretty face, and now she's more than an injection-filled one.
Did she want to feel better about how she looks? Did she feel that looking better would help her feel better? Did she face enormous pressures to fit into a certain mold, no matter how we feel about the importance of breaking molds and boldly being who we are?
These are only questions, but they are certainly more interesting than looking at a face and making judgements about it.
In honour of not only of hers, but the stunning complexity that makes up each and every human on Earth, here's a celebration, and not a slam, of the multi-faceted Kim Novak.
https://www.youtube.com/watch?v=sTG_zwGsPWc
Relephant Bonus: The Vertigo soundtrack!
Love elephant and want to go steady?
Editor: Renée Picard
Photo: screenshots from Youtube