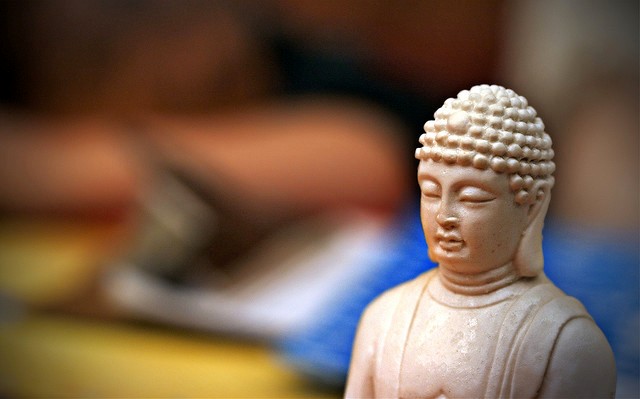 Dang. I sat down to write about wisdom and immediately felt inadequate—like I didn't know what I was doing and had the deep realization of, "who was I to discuss it."
I, then, calmed myself with soothing inner dialogue about how I was simply exploring wisdom—making no claim to possessing this elusive status. Anxieties relieved, I fine-tuned my trek to just wonder and ponder wisdom.
What is wisdom?
I considered people who I thought to be wise.
I considered historical depictions of wisdom.
I wondered if I ever felt wise in my life and how it felt.
Is wisdom: Intelligence? Knowledge? Intuition? Impartiality? Equanimity?
Wisdom doesn't seem to be any one thing versus some strange alchemy of several things. It's kind of like this mystical overall knowingness that is subtle, accepting and non-reactive. It doesn't seem to have to have everything all figured out. It can see the stars, but it doesn't have to count them.
It would never split a baby in two, but might suggest it.
It has a sense of humor. It is peaceful. Grateful.
Age and education aren't necessarily required. We've all met not-so-wise educated people and people with old souls.
I think there are a lot of wise people in the world—they just don't advertise—not wanting to hang a sign out on the shingle saying, Wisdom for Sale, Get Affordable Rates Here!
There certainly are people who seem to sell themselves as wise and who definitely possess vast amounts of knowledge in specific areas—but that doesn't mean that they are wise.
And something in my gut tells me a certain humility comes along with wisdom. When a person attains wisdom, it seems they might just keep it on the down low or else they don't really think about it—much less self-identify or advertise themselves as wise. Then again, they might feel a little duty-bound to share the stuff they've got, especially if it eases pain and suffering for others.
Dang again. This is a quandary. Yet being wise, these people know they can't throw the keys to the wisdom-mobile to just anyone. I mean, doesn't a person have to be ready for wisdom somehow? Isn't there a ritual or initiation process? A secret handshake?
Separate yet related to this, I also noticed lately that almost every weekend spiritual/self-improvement seminar facilitator is now a Thought Leader. That sounds like wisdom to some degree?
Hmmm…Thought Leader is a pretty bold claim. It basically reads, I am the first person to be thinking these thoughts.
There have been a lot of people on this planet and a lot of thoughts have been thought. To be the leader on a thought, to be the first person thinking that thought—wow—that's big!
Maybe if I bought the books or attended the seminars of as many of these Thought Leaders as possible, some wisdom might transfer over to me? Yippee!
I crack some books and check out some videos and notice there are a number of references to the ancients, the sages, masters, gurus and teachers of yesteryear. So I am thinking, These aren't new thoughts! These have been thought before! These Thought Leaders are Thought Re-Hashers!
First, I feel a touch of anger and disappointment. Then, I give these new Thought Leaders some credit. For their packaging of these old teachings about wisdom into new and creative formats—making it more obtainable for some.
I wondered what these ancients had going for them that they could obtain wisdom and teach it to others. This was thousands of years ago when they didn't have computers, seminars and videos. The first ones didn't even have teachers—they truly were the Thought Leaders.
Somehow they figured wisdom out on their own, possibly because they had more solitude and less distractions. Maybe they liked to meditate or pray? Maybe they were humble, non-judgmental, loving and kind?
Over time they learned about the folly of the human mind and the need to calm it. And eventually they would teach that the answers to life's suffering comes from within or, even, that the Kingdom is within.
Wait, were these teachers saying that we all have wisdom? Oh my God. Oh my God. This is good stuff. Maybe we had it along it, but just didn't know? Heavy!
Do we each have a scavenger hunt or obstacle course of sorts to uncover this wisdom, to help it bubble up? Does everybody have a different path or manner to uncover this wisdom? Might some of these new Thought Leaders help us? Might the techniques of the ancient masters still work?
Taking a cue from the ancient masters, I decided to meditate on it. I asked my own mind, my own soul and the powers that be in the Universe my questions about wisdom.
I just got a blank screen in response—a really calm blank screen.
I then felt that wisdom is something you can't force. It might happen if you let it, if you set up conditions whereby it might arise, and then, if and only if, you stay humble. Otherwise, it will whisk away.
So here I am, none the wiser in the grand scheme of things, except that I feel like I got the tiniest taste of how not to find wisdom.
I was hoping for the easy answer. Dang.
Love elephant and want to go steady?
Editorial Assistant: Jessica Sandhu/Editor: Rachel Nussbaum
Photo: ronsombilongallery/Flickr