Summer is coming

—

even if it was only last week that snowflakes fell from the sky, I promise you it's coming.
I write this on the eve of Memorial weekend and the campground I'm calling home for the next six weeks is starting to fill up with weekend warriors.

From my window I can see their campfires blazing and the marshmallows roasting as they fulfill that old camping requirement of consuming one too many smores .

Summer brings us BBQs, pool parties, cook outs and potlucks—and although I am a struggling vegan, I still like to participate. But now I bring a dish I know I'll love just in case the party turns into a full blown meatfest and I'm stuck trying to build a salad out of the condiment tray fixings.

In my pre-vegan days I was the crowned Queen of the Deviled Eggs (and Sangria, but I'll save that recipe for another day) so I felt it only fitting that I try to veganize them.

Unfortunately, these have become a big hit with carnivores, omnivores and herbivores alike so I have to hide a few lest I find myself with yet another iceberg lettuce, pickle and ketchup salad.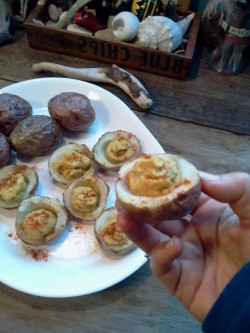 Devilish Deviled "Eggs"
"Egg":
12 tiny red potatoes (think egg-sized)
2 tsp olive oil
Dash of black pepper and black salt

Filling:
1 ¾ cups cooked garbanzo beans (or one 15 oz can drained, reserve fluid)
3 TBS vegan mayo
3 tsp Dijon mustard
1 ½ tsp liquid aminos (or soy sauce)
1 ½ tsp chili garlic sauce (like Huy Fong found in most grocery stores in the Asian Foods section)
1 tsp sugar
2 green onions, minced
Black pepper and *black salt, to taste
Paprika (smoked or regular)

Directions:
Toss potatoes in olive oil, black pepper and *black salt. Place on baking sheet and roast at 400 degrees for about 20-30 minutes or until soft.

Meanwhile, in a blender or food processor add all of the filling ingredients except green onions and paprika. Blend on low speed until smooth, adding reserved fluid (or water) as necessary. Mixture should be a hummus like consistency.

Empty filling into bowl and stir in minced green onion.

After potatoes are cool enough to handle, cut each in half and **scoop out the center with a spoon (I use an old grapefruit spoon).

Fill the hollowed out potatoes with a hefty dollop of filling and then sprinkle with paprika.

Best served chilled (if you can wait that long).

*Black salt tends to have an "egg-like" flavor and is great for this type of recipe, however, feel free to use any type of salt you have on hand.

**You can decide whether or not you'd like to add the scooped out potato middles into the filling mixture or save it for another recipe.
Love elephant and want to go steady?
Apprentice Editor: Jen Weddle / Editor: Catherine Monkman
Photo Credit: Lynn Bonelli