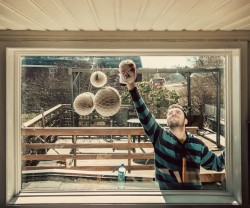 "Better keep yourself clean and bright ; you are the window through which you must see the world."
~ George Bernard Shaw
I enjoy making people happy with gifts, words and food as much as the next person. But don't dismiss the fact that cleaning a toilet could become a sacred act of love and service.
Sometimes you just don't know why you say yes to something—you trust and go forth in that good energy.
Right before Christmas, I received a call from a very new friend who I had met volunteer teaching yoga in a local prison together. She was looking for someone to clean the home she was selling that very day. As her workload felt jam-packed and her ex-husband emotionally had to move on and not dwell in that space any longer, she found herself in a tough spot. I offered to call my cleaning woman and after a few minutes of no response, I texted my friend back that, "Yes, I have time and will do it myself."
Honestly, I was happy to make some pre-holiday cash.
Gathering bucket, swiffer, windex etc., I also grabbed the Bose speaker to jam a bit while cleaning. May as well amp-up the break from shopping, baking and wrapping! I already mentioned having a cleaning woman, this was not a typical day. I am a writer, yoga instructor, carpool mom, avid cook and volunteer.
Most importantly during this time, my husband's aunt, at 84 had been diagnosed the year before with breast cancer and was now in her last days. As I began to spray and scrub, I thought of Aunt Doris and how she just loved to keep the house, not just clean but spotless. She enjoyed the act of sweeping away the dusty and dirty surfaces to allow a sparkle and shine to emerge.
I had never thought about cleaning in this way, and as I honored her time with us on earth, a calm enveloped me as I vacuumed and mopped. Crying and singing, this act of friendship began transforming into something deeper.
I began talking to God as I tend to do, and I heard in my spirit, "You cannot take money for this transaction, it would sully Our time together and your honoring Doris' memory". Initially, I will be honest, I argued with God a bit, saying that would be quite odd. But He firmly assured me to trust Him on this.
As the hours passed, I was aware that the experience had taken on a holy feel and I was present to grace all around. It was a little bit like heaven on earth as I used my strong, healthy body to make this old, beautiful home more lovely in its cleanliness.
God was making me new and shiny too.
I have heard people say "it is my pleasure to serve you" and I never really understood and thought maybe they were exaggerating a bit. But now, I know what they meant by this sentiment.
And deep in my heart, I felt it was my privilege. This was really living my yoga.
Love elephant and want to go steady?
Editorial Assistant: Sue Adair/Editor: Catherine Monkman
Photos: Pixoto, Sanso Janjusic