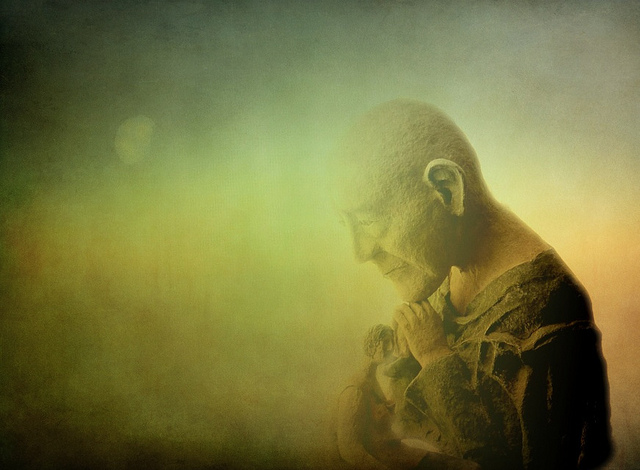 My dear, I am tired.
I am a man who has seen the way through the forest but who has taken too many wrong turns to continue.
Your way is beautiful and wonderful and peaceful and hopeful. And it requires much of me. I must shed so much of myself to walk by your side that there is almost nothing of me left at all.
You see, my darling, I come broken. I am pitted with holes and worries, fears and needs. It has become clear that no amount of wishing I was a different man actually makes me a different man. I can no longer abandon myself the way I have. And abandoning myself has been the only way to preserve your wonderful beauty.
I long for the magician who can transform me in to the man with no needs, but he has yet to visit me. And I am as yet unable to transform myself. Which leaves me still the man that causes you pain by being hurt myself.
The wounds I come with drag you down and destroy your Zen. I taint your peace and shatter your happiness. Please believe that I do not do so with intent my dear. I simply find it unbearable to hide the parts of me you would rather not see.
A better man perhaps could release his needs to nurture yours. But I am yet to become that man.
My darling, I am different to you. But I wish I were not. I pray so often to be transformed in to the man I know you wish I were. For it is when I manage to hold that mask long enough that you love me the most. And now I am tired. I have fought and battled and struggled with myself to be only the parts of me you love. But the ugly parts live on. The needy parts, the lonely parts, the jealous parts and the part that wants to interact with your sexual side as much as your intellectual side. They live and breathe and cause you pain.
Can you understand that I am not asking you to change? I accept you just as you are and long for the day when I can change to meet you there. The day that I can be the man I can see you need. Perhaps that day will be tomorrow. However I have had that hope for too many yesterdays to believe that still.
What a beautiful story we could be. Me standing faithfully by your side, dedicated to you and wanting nothing but your company. Patiently waiting for you to find your way, knowing you would find your way back to me.
But I am a weaker man than that.
I cannot lie about my want for you, my need for you and my unhealthy, selfish and total dependence on you.
Please rejoice in the fact that I saw you and I felt you and that I agree with you.
Your way is better. It is more beautiful, more pure and perfectly lovely.
I am simply unable to do it with you.
My love, this isn't goodbye. This is surrender. God knows I've tried to change but I am no longer willing to be the blockade to your happiness I thus far have been.
You are beautiful and wonderful and everything I ever dreamed of. Be that still. And perhaps we will make love in our dreams. And there you can have the parts of me you love most. You can have me as I wish I were too.
I love you. And that is why I must let you go. Enjoy your life. Enjoy your love. I have.
With a planet heavy heart, I love you. I always will.
Relephant:
Love elephant and want to go steady?
Editor: Renée Picard
Photo: Sara at Flickr