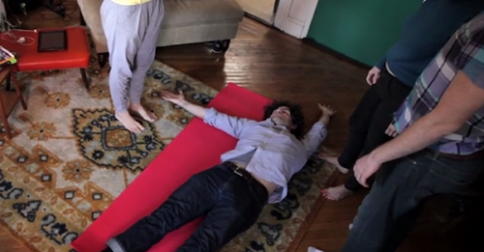 When people find out you teach or do yoga, a flood of curiosity and preconceptions ensues.
Here's a funny video where just that happens to a yoga teacher on an apartment search. Questions escalate into an impromptu class and, ultimately, murder.
This video finds comedy in celebrating the eagerness of yoga neophytes. Only one curse word in this video is spoken by the only person to, of course, die in it—an enraged yogalebrity.
Perhaps you are the eager noobs ready to learn some yoga or maybe you are the exasperated teacher looking to find a little peace or possibly you are the scandalized yoga star? Either way, see the comedy unfold here!
Enjoy!
Love elephant and want to go steady?
Apprentice Editor: Jessica Sandhu/Editor: Catherine Monkman

Photos: YogaDork, Video: Bankrukt Productions (Shaina Feinberg, Chris Manley, Chris Roberti, and Jeff Seal) featuring NYC yoga teacher Rebecca Ketchum