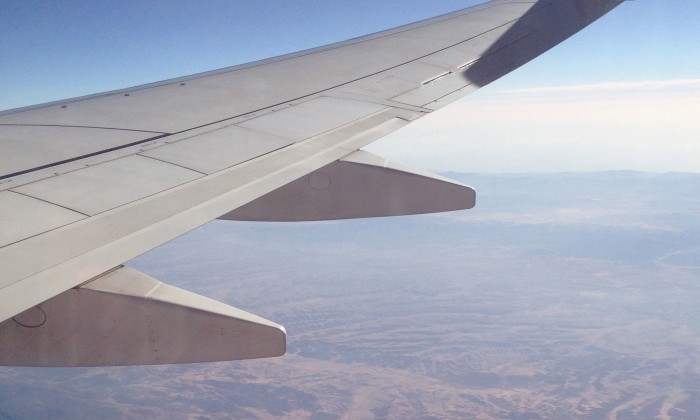 Summer is finally here! 
Time to escape the day-to-day and cash in some of those hard-earned vacation days for some well-deserved rest and relaxation.
Getting out of town for a few days doesn't necessarily equate to throwing caution to the wind and putting your healthy-eating lifestyle on hold though.
Yep, what you eat on vacation counts.
Consistency is part of reaping the benefits of a special diet, but travel and social obligations can often thwart good intentions. Luckily, a little planning can go a long way with feeling good about what you put in your body.
Whether you are gluten-free, dairy-free, on an elimination diet, have a nut allergy or simply prefer clean eats, follow these four simple tips to stay on track, wherever your travels take you.
1. Leave Full
Scarf down a warm, well-rounded meal right before you walk out the door to catch a flight or start a road trip. This ensures that you are less likely to feel hungry and frustrated—or what my Auntie Jay-Jay would call, hangry— during your travels. A full belly will keep you level headed and free from making rash food-decisions.
2. Pack Snacks
Airports and gas stations are filled with processed, convenient foods that can easily sabotage anyone's health, especially those with dietary restrictions.
Do yourself a favor when traveling and pack some safe snacks so you never find yourself famished and hours away from finding something suitable to eat.
Fortunately, if you are traveling by plane the TSA places fewer restrictions on food than liquid, making packing snacks a breeze. There are technically no restrictions on how much food you can pack in your carry on, but keep in mind that the food you pack is still subject to TSA's no-liquid rules. So, be mindful of things like applesauce, yogurt or salad dressing. While these items are permitted past airport security checkpoints they must comply with the 3 ounce or less rule.
I almost always pack fresh cucumber or bell pepper slices in my purse, but you can toss any snack into a to-go container and you are set!
Here are just a few on-the-go snack ideas to consider next time you travel:
tea packets
apple, orange, bell pepper or cucumber slices
blueberries, raspberries or blackberries
nut, seed or fruit bars like Lara Bars, Two Mom's in the Raw or Go Raw Super Cookies
grain-free granola
hard-boiled eggs
single-serve nut-butter packets
rice cakes
dark chocolate
pumpkin seeds
Brazil nuts, almonds, cashews or other nuts
baby carrots
coconut milk yogurt (save this yummy 6oz snack for your road or train travel)
salad of choice with dressing in a separate container
3. Bring Backup
I traveled to visit family and attend a conference in Atlanta a few months ago and wasn't sure what would be safe for me to eat. I knew there was a health food store not far from my family's house, but instead of doing a bunch of grocery shopping right after stepping off the plane, I opted to prepare some simple foods I could pack and make in a pinch. Good thing I did so, because my flight was delayed and the health food store had closed by the time I arrived.
I always prepare small to-go jars of 100 percent organic cream of buckwheat cereal and all the fixings when traveling. If I plan on staying somewhere for three days, I measure out three day's worth of cereal, mix it with cinnamon and place it in a jar. I also toss in all the fixings like coconut butter, chia seeds, flax seeds and maybe a few raisins in another jar. 
I have even packed smoothie-making materials like chia seeds, nuts, coconut flakes and cocoa nibs and bought frozen fruit and fresh produce upon arrival. My hosts have always loved it when I whipped up a smoothie for two, plus I save myself from having to buy more than I need at the health-food store.
Even if you never end up using your backup foods, being prepared will give you some peace of mind when away from your kitchen.
4. Communicate
If you are blessed to stay with good friends and supportive family, they will honor your choice to eat as you choose and gladly accommodate you.
Broach this subject before arriving so your host knows about your dietary needs. This ensures that no one is put in an awkward situation come mealtime. Plus, chances are your hosts will be interested in knowing more about your journey and why you've chosen to adhere to a specific way of eating. Take this opportunity to express your appreciation for their understanding and to share your story.
If you have plans to eat at a certain restaurant, look up the menu beforehand or call the restaurant and ask what available dishes will accommodate your needs. In my experience, most places are very respectful and willing to help me with this, but if they aren't then you may be better off dining elsewhere.
Regardless of where you vacation this summer, you can maintain your healthy glow with a little creativity, forethought and careful planning. 
How will you eat healthy on your next vacation? 
 ~
Love elephant and want to go steady?
Editor: Emily Bartran
Photo: Serge Esteve (Used with Permission)