A tall, balding man is walking down a highway.
Some people see an escaped convict and call the police. Others see a monk and give him a ride. Swami Sankarananda has had both responses as he walks across the United States for peace. I had the pleasure of meeting him at Main Street Yoga in Bloomington, Illinois on Tuesday, June 24.
He steps into the room wearing an orange monk's robe and t-shirt which reads "Coast 2 Coast Walk for Peace." As he takes my hand in both of his and looks into my eyes, I immediately feel an overwhelming sense of peace and love. He leads us in a meditation and brief chant, and then tells us the story of his cross-country walk.
Swami began his journey in Monterey, California in honor of Peace Pilgrim Mildred Lisette Norman. Peace Pilgrim began her journey on January 1, 1953 and walked back and forth across the United States until July 7, 1981 when she was killed in a car accident. His trek will end in Egg Harbor, New Jersey where she was buried.
Mildred wore a blue tunic in which she kept only a comb, pencil and tooth brush. Swami has tried to remain true to her principles, but has added a couple of modern touches. He wears only the clothes on his back and carries a backpack which contains materials to shave his head, a sleeping bag and some toiletries. What he has added is a phone and a one liter plastic water bottle which he calls the "magic water bottle."
Swami says that he steps out in faith, asking no one for anything, but accepting what people freely give. Each time he has run out of water on his trip, within two hours someone appears to fill the bottle—hence the name "magic water bottle."
Once, he was sitting by a road in the middle of nowhere, just about to enter the desert, when a man appeared in a pickup truck bearing a bag containing Gatorade, water, bananas, shelled walnuts and Swami's favorite peppermint candy from his youth. Where did he come from? How did he know Swami was there? Swami says he does not know. Events like this have been common in his trek. "I am encouraged to have faith and believe that what I really need in life will make its way to me."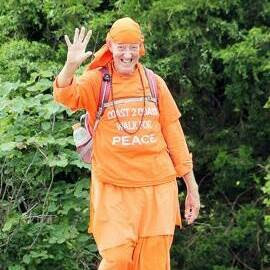 Before Swami became a monk in 2013, he was the president of a billion dollar company and had an offer to become a president of a second company. The success, the toys he bought and alcohol left him dissatisfied. He began to experiment with yoga and before long, left his money and prestige behind, and traveled to India. He became a monk on September 15, 2013 and returned to the United States in October of the same year. He began his walk for peace leaving Monterey, CA on January 1, 2014.
I am reminded to ask myself, "What do I really need to be happy?"
Swami tries to bring peace and happiness to all the people he meets with a smile and wave of his hand. He reminded us during his talk how much difference a smile can make in a person's life. He reports that things are pretty good out there across America. When the police are called, the encounter inevitably ends with a smile and a wave. No one has attacked Swami, even though he spends many of his nights under the stars. He is generally treated with kindness.
I am heartened to know there is kindness in the world and reminded to smile at each person I meet throughout my day.
Swami has a Facebook page where people can trace his journey. People living between Illinois and New Jersey have the opportunity to meet him along his path. I recommend it—the kindness and peace that he radiates is contagious.
We chanted with Swami—Om Namo Narayanaya—and he told us his translation for this prayer: "It is the chant for world peace. Om is the first word, the creative word and the name for Brahman or God. Namo is great, glory to. Narayan, or Narayanaya, is known as an incarnation of Lord Vishnu, which is God's 'sustaining power.' So it is a chant or invocation to the great sustaining power of the Lord for peace."
Love elephant and want to go steady?
Apprentice Editor: Jamie Khoo/Editor: Travis May
Photos: Jubair Iqbal/Pixoto & Sherrin Fitzer