Waylon with Shane Davis, the Fractivist: how one man has helped stymie the Oil & Gas Industry.
~
3 Things to do if you want to Save Colorado in 10 Days:
"Every single person who loves the environment, drinking clean water and breathing clean air get out and sign." ~ Shane Davis @fractivist
In Colorado? Sign 88, 89 & Home Rule.
1. Home Rule: allows communities to have the right to clean air and clean water, allows communities
 to say no to a harmful environment.
2. Bill 88: Lead by Congressman Jared Polis, Bill 88 will increase well pads to 1000 feet from home (currently at 500 feet).
3. Bill 89: (also lead by Jared Polis) allows communities the rights to clean air, clean soil, clean water, clean environment.
More: safecleancolorado.com & bccrn.org

A brief Overview: Currently citizens of Boulder County do not have the ability to vote on any issue including GMOs, fracking etc.We are a statutory county and as such only our three county commissioners are the only ones given a vote on county issues. At a city and state level we have the power of the initiative. Because of this lack of power at the county level, we currently have GMOs on Boulder County open space. Currently the oil and gas industry and state have intentions of fracking 2000+ wells on Boulder County open space and we the people of the County have no ability to stop it.Home rule would change this. It would give all 300k+ citizens a vote. Through home rule we could assert our community rights through a bill of rights and ban fracking, GMOs and other dangerous industrial activities that threaten our human rights.

What can you do to help:

1. Sign the petition: Where? Beginning Saturday 11/26 Anytime between 11am-7pm in front of Unity Church, 2855 Folsom St, Boulder, Colorado 80304

Here are some alternative times and locations to sign: bccrn.org/plugin

2. Circulate a home rule petition: Find a location to get trained: bccrn.org/plugin its just 52 signatures and you can collect from friends, family and neighbors!

3. Attend Donation yoga event with the lovely Gina Caputo. Afterwards we will have a  discussion about community rights: Tuesday,11/29 at Eben G Fine Park at 6:30-9pm
"Destroying our lands and extracting unnatural gas—there's really no methodology behind that and it's not something we need." ~ Shane Davis
Waylon with Shane Davis, the Fractivist:
Why do you believe in renewables?
"We're smarter than fossil fuel. We have the technology, we just need the political will to actually say we want to create healthy energy, that is thrivable, not just sustainable, but that we can all thrive in, that doesn't have extreme methods, or extreme collateral damage to the environment or communities." ~ Shane Davis
Could we do this in the short term?
"If we could divert 50 percent of severance tax (when we extract minerals from the earth that the industry pays back to the state and those counties where it's being extracted) from the oil and gas industry in Colorado now, we would have huge resources. Let's look at where this money is being distributed and why is it not being distributed, in part, into health energy so that Colorado can lead the way." ~ Shave Davis
~
The Pros & Cons of Fracking:
"Don't buy what you don't need." ~ Shane Davis
"Fracking is coming to a backyard near you. Do you want that? What is it? Let's get educated." ~ Shane Davis
"There's no moral structure to what they're doing." ~ Shane Davis
~
Call to action:
"We need to be very aware of not buying stuff that is made by oil & gas industry. We need to shift out of that framework. Consumerism: we are so desensitized with buying plastic crap. We have to change our way of thinking, our way of life. Biking, walking, busing, using different types of transportation—GoCar (car shares) that are solar, everywhere. Install solar. As a community, go to your city councils, go to your county commissioners, make sure you can have these options in your backyard, and not under the umbrella of oil and gas." ~ Shane Davis
~
Bonus: Fracking Sucks! Waylon Lewis talks with Josh Fox of Gasland fame.

Elephant is psyched to be working in partnership with Google+ on our new live video series, which features three live videos a week (that can be watched later, too).
~
More from Shane Davis: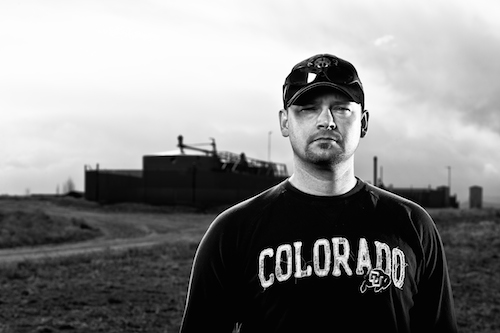 Shane's bio from his site: 
Shane Davis is the Director and Founder of Extreme Hydrocarbon Survey and fractivist.org.
Shane is a biologist and former park ranger. He is a nationally recognized expert data-miner and analyzer of official oil and gas documents. His research and data have empowered dozens of grassroots organizations which use it as a center piece for grassroots educational movements and public debates nationwide. Shane has featured his data in hundreds of public presentations he calls: "The Inconvenient Proof: A State of Failures."
Through his research projects, Shane has proven that one of Colorado's aquifers was contaminated by a failed well-bore casing and that dozens of private water wells were contaminated with oil and gas related chemicals and thermogenic methane. He has revealed that homes have been built on top of abandoned oil and gas wells that subsequently explode. Groundwater contamination occurs at a staggering rate, playgrounds have been built on-top of back-filled oil and gas industrial waste pits, and that millions of gallons of toxic chemicals have been spilled and never recovered from Colorado's environment.
Shane leads workshops on methods of data extraction, how to analyze and use oil and gas data as a meaningful tool, map-making and various other critical techniques. He has also been featured in, and or technically advised, numerous national and international documentaries to include those by: Nickelodeon, USTC 360, Canal + France, Al Jazeera America, Shattered Ground, Resolution Pictures, Oceans 8 Films, and Showtime. His recent works are as protagonist, and narrator for the Mountain Film documentary: 'Dear Governor Hickenlooper.' He is currently working on five climate documentary films.
Shane is an avid hiker, musician, naturalist and a former National Science Foundation Grant recipient and NATO medal recipient for his work overseas. He lives in Boulder, Colorado.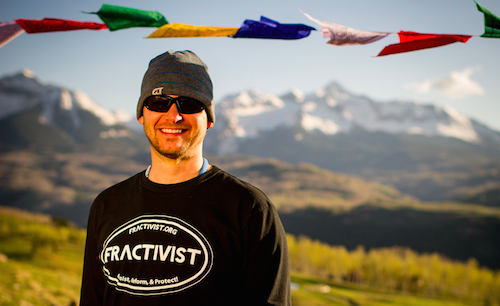 Find Shane Davis on his website, Twitter, Facebook, Flickr
>> Extreme Hydrocarbon Survey Information—Okay, I'll donate to the Extreme Hydrocarbon Survey.
>> More information from Westword: How Colorado became ground zero in America's energy wars
"The burning energy of fractivists world-wide will outlast all the UNnatural gas the industry could ever extract." ~ Shane Davis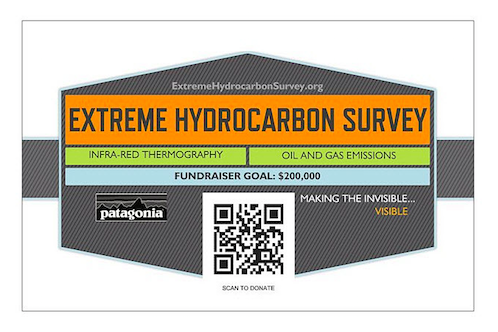 ~
~
Relephant:
~
~
~
~~
We got your social mediums right heah:
Hangout on Google+ every Tuesday & Thursday at Noon MDT.
Listen: Walk your Talk on your commute or over dishes with Soundcloud.
Subscribe directly to our award-winning Youtube Channel.
Editor: Rachel Nussbaum
Photos: Shane Davis