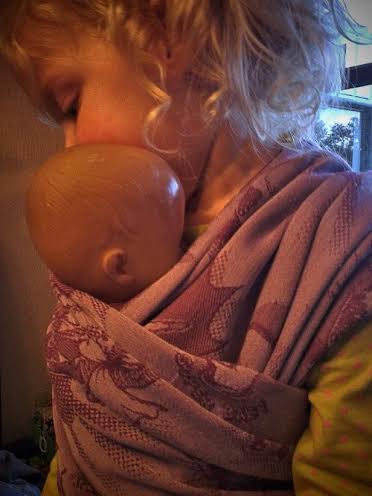 I bought my two-year-old daughter a doll sling.
A special edition sling designed and made to support the Independent Midwives in Germany.
This sling represents my hope that my daughter will have access to the same level of birth choice that I have today while knowing that it is unlikely that she will.
At least not in Europe.
In 2011 the European Union passed a directive that undermined the ability of Independent Midwives in member states to support a labouring woman. They made it a requirement that Independent Midwives have Professional Indemnity Insurance in the full and certain knowledge that it would be virtually impossible for them to find this cover for an achievable premium.
It confuses me that they would take this step having only just defended the rights of women to choose where they birth, because what they have effectively done is make Agnes Gerebs of every Independent Midwife in Europe.
They have confirmed the human rights of a birthing woman while depriving her of the effective mechanism to exercise that right, and the result is that women will not easily be able to achieve a safe home birth.
But why does it matter? Why should we care that an Independent Midwife attended home birth has effectively been rendered unachievable?
It matters because Independent Midwives offer a unique service.
Maternity services within the UK are struggling: That's not news. There are not enough midwives available to give women proper continuity of care and instead of addressing that problem, this legislation worsens it by removing a small but significant example of best practice.
What does it leave in its place?
It leaves a service that is already failing 50 percent of the women under its care while the National Institute of Clinical Excellence talks about providing "a model of care that supports one-to-one care in labour," as if the NHS were just being lazy in not having achieved that already.
We have to accept that there is a longer lasting legacy of this shortfall.
There is something called Birth Grief which is slowly eating away at a large number of women like an emotional cancer.
When I say large number, I mean something in the region of 12,000 women per year* coming away from the birth of a child with the same symptoms as soldiers who have come back from serving on the front line of a war zone.
Women, like me, who suffer because decision makers at various levels refuse to understand that they cannot dis-empower birthing women without consequence.
These are not women pouting because they didn't get a massage when their back felt a bit ouchie; these are women torn apart by grief because they were failed by the people attending them.
Effective birth care is about knowing that for all our differences, humans have the need to give birth just like any other mammal: in quiet, respectful environments.
Reversing this landslide of trauma is about making the decision that we as a society value the mental health of our mamas enough not to saddle them with a lifetime of pain and regret.
In order to do that, someone has to get their brave boots on and admit that none of that is achievable with the current, state-funded models of maternity care.
It's late in the day to join the fight for Independent Midwifery but there is still a road to travel before all of this is consigned to the history books.
If you are interested in getting involved, my suggestion would be to look up the Independent Midwives UK group. You can add your voice to many who are working to secure a future where women are able to make a choice that empowers them and gives them access to the respectful care they deserve.
*I know, I couldn't believe the numbers either. Alder et al (2006) put the instance of post childbirth PTSD at around 1.5%. The UK had 812,970 live births in 2012.
Love elephant and want to go steady?
Editor: Emily Bartran
Photo: Author's Own