Summer veggies. My mouth begins watering at the thought!
However, when I think of cranking up the oven and standing over the stove for hours each day of the hot summer, I instantly wilt a little.
And so, I've come up with a system for cooking up a delectable feast from the garden (or Farmer's Market) that will feed my partner and I for a week and only involves hanging out in the super hot kitchen for a mere two and a half hours at the beginning of the week.
Thought I'd share it with you:
Ingredients:
Base
2 cups of white, long grain rice
Can of black beans, drained
Cashews
Feta (optional)
Sweet potatoes, cubed
Brussels sprouts, quartered
Zucchini, sliced
Summer Squash, sliced
Carrots, cut into chunks
Stir Fried Vegetables
Spring onions, sliced
Red bell pepper, sliced
Green bell pepper, sliced
Two ears of corn, corn shaved off the cob
Bok choy, sliced
Mushrooms, quartered
Seasoning
Bragg's Liquid Aminos
Toasted Sesame Oil
Salt and Pepper
Cooking oil of your choice
Toppings
Sliced avocado
Sliced tomatoes
The Steps
1. Preheat oven to 400 degrees.
2. Cook the rice (Be sure and rinse your rice in two to three changes of water).
3. Prep the roasting vegetables.
4. Place the cubed sweet potato in a casserole dish and toss with cooking oil and salt.
5. Place the other roasting vegetables in second casserole dish and toss with cooking oil and salt.
6. When oven is preheated, place all roasting veggies in the oven for about an hour, or until they are cooked to your liking.
7. While the roasting veggies are roasting, prep the stir fry vegetables.
8. By this time, your rice is probably done. Allow it to cool on the counter or in the refrigerator.
9. In a large skillet, heat a couple of tablespoons cooking oil, a dash of sesame oil, and a dash of Braggs. When the oils are nice and toasty, begin stir frying the vegetables, beginning with the onions and peppers then adding in the corn and bok choy. Once finished, place to the side.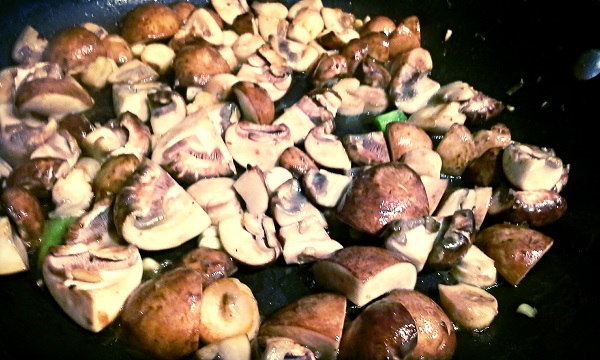 10. Now stir fry the mushrooms. Be sure not to overcrowd them in the pan. And, allow them to cook past the watery stage. Once finished, place to the side.
11. By this time, your oven veggies are probably done. Check on them and if they are finished, toss with Braggs and sesame oil and allow to cool on the counter.
12. In the large skillet, combine a little more Braggs, sesame oil, and cooking oil and allow it to heat up a bit. Then add in the rice, black beans, cashews, and feta. Stir fry for a few minutes.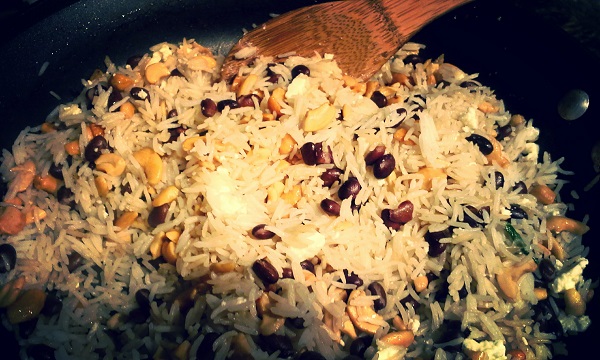 Everything is now ready! To serve, get out a big bowl and add some rice, then some sweet potatoes, other roasted veggies, then stir fried veggies, top with sliced avocado and tomato and enjoy the bountiful harvest that is before you!
To store the rest, you could combine all the vegetables in one covered casserole dish and the rice in another and then pop them into the fridge. Each day of the week, just heat up the perfect portion on the stove to be nourished.
~
~
Love elephant and want to go steady?
Apprentice Editor: Guenevere Neufeld / Editor: Emily Bartran
Photos: Author's Own