The internet is illuminating, funny, creepy, inspiring, heartbreaking, boring, time-wasting, and brilliant at turns. Kinda like humanity itself.
Thank you, Jesus.
Volleyball USA vs. Mexico
For those who wonder: This is a photo taken in Naco, Arizona (1979) of a volleyball game between Mexican and U.S. citizens, using the border fence between Mexico and Arizona as the net.
We all know the feeling. Well, sort of.
No one is born a racist.
Louis and his wife in Egypt. For 107 more of the most romantic photos ever, here.
Lightning strike.
This, for sure.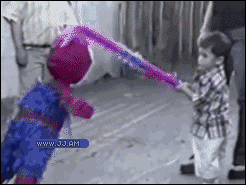 Sorry, Spiderman. If only all humans could stick with this initial impulse toward empathy, we'd see fewer wars, rape, less greed.
"The amount of destruction in this photo."
Boop!
Jupiter is not static.