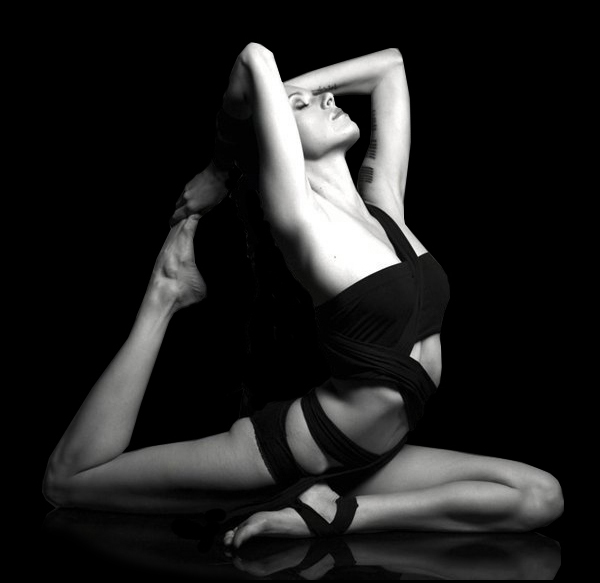 *Editor's Note: The following is a fictional interview. 
~
Welcome to On the Mat. Today's interview is with innovative YO! Yoga studio manager Keith Sophist.
Michael: Namaste.
Keith: Namaste.
MM: I see the light in you.
KS: I need sunglasses, your light is so bright.
MM: Congratulations on your ground-breaking approach to increasing activity at your studios.
KS: Yoga studios are now in every tree. YO! Yoga! needed something to stand out. And we're glowing about it, inside and out and other places.
MM: Tell us, using as many Sanskrit words as possible, what you've done.
KS: I will chant the Immeasurable Mantra silently as I speak in hushed tones—you will feel your mid chakras reverse.
MM: Ahhh.
KS: Basically, we are paying hot girls to wear as little as possible in our studio.
MM: And why would you do that?
KS: Hot girls wearing little as possible, we found, attracts other hot girls wearing as little as possible. And so we have increased our male clientele tenfold, give or take a quarter fold.
MM: Enlightening.
KS: We also have a mat reservation system where you can do yoga behind one of our hot women for an extra cost of $4 per class.
MM: This appears sexist.
KS: Cleanse your doors of perception and wipe your drool. We also have very hot men at the studio who attract hot men and hot women—you see how it goes? And one can reserve a mat behind them.
MM: How does this affect the Chi in the room?
KS: It's hot, moist with a hue of melon and scent of cinnamon and meat.
MM: Because of the hot women and hot men, right?
KS: That, and we pump scents into the rooms.
MM: Is there any downside to this new model?
KS: People get upset when they can't get behind a hot person. They whine, "This person is not hot enough—I reserved an eight and a half. He or she is like a six. Boohoo."
MM: Well, that could be disappointing.
KS: Devastates our Yelp scores.
MM: Do you have a solution?
KS: Yep. We're putting in a system where you can select the person around you in the studio. You click on the photo of all the studio members and you get the yogini you desire right in your Drishti.
MM: Sweet. What if you are not selected? Can you do still yoga at your studio?
KS: Of course. We are building a studio for the physically less desirable. They will get a discount. We believe in compassion. These people are already suffering so the dollar off is our way of saying, "We think you are beautiful, in your way."
MM: Do you see this becoming a trend in more yoga studios?
KS: Well, let's see? Do you think people find good-looking people, in great shape, stretching in beautiful ways attractive?
MM: I see the light of your thinking.
KS: Your light is full of energy. I'm wondering, can I recharge my phone by plugging into you?
MM: Be honest with me—could I be one of the hot guys?
KS: Let's put you up on our rating system. Why bother? No.
MM: Is this in keeping with the spirit of yoga?
KS: The spirit of yoga is change. The spirit of yoga is the wolf and the chicken he has eaten being digested and eliminated from his system fertilizing the sapling.
MM: I see what's inside of you.
KS: I had an extra large chai.
MM: Frothy.
KS: Spicy.
MM: Namaste.
KS: Here's a discount coupon for a session when the hot people are out partying.
Relephant:
Love elephant and want to go steady?
Editor: Emily Bartran
Photo: Wikimedia Commons