Love biking? Love gear? Hate cycling gear? Panache yourself!
Note: elephantjournal.com received these review items for free, in return for a guarantee that we would review said offering. That said, we say what we want—good and bad, happy and sad.
If someone didn't drag you into the sport of road biking, it's likely that you watched adults in superhero costumes adorned in NASCAR style sponsorships and thought I'll pass on that sport. Road riding really does require the full-on spandex kit to have a good experience but it doesn't require being a billboard which connotes wannabe to everyone in the neighborhood.
Finally, two ex pros of the cycling industry decided to make race quality gear that says style with verve and confidence sans any branding. Panache—a Boulder based company that designs locally in Colorado has been putting out great gear for the past seven years.
I tested the elegant and subtly playful Grand Prix Jersey and Bibs for a few hundred miles. Without getting too technical, this very amateur road rider can say that during my miles of testing, I was highly impressed with the fit and chamois quality—including the all important buttocks pad.
Most of the cost in a good pair of bottoms is the chamois and these bibs' chamois are as good as any of the premium Italian versions that cost fifty-percent more. The legs have a compression component that squeezes your thighs to increase proprioception and actually makes you feel stronger. One thing I like less about these bottoms was a bit of a white, over-stretching appearance caused by over-stuffing. Okay, I have rhino thighs.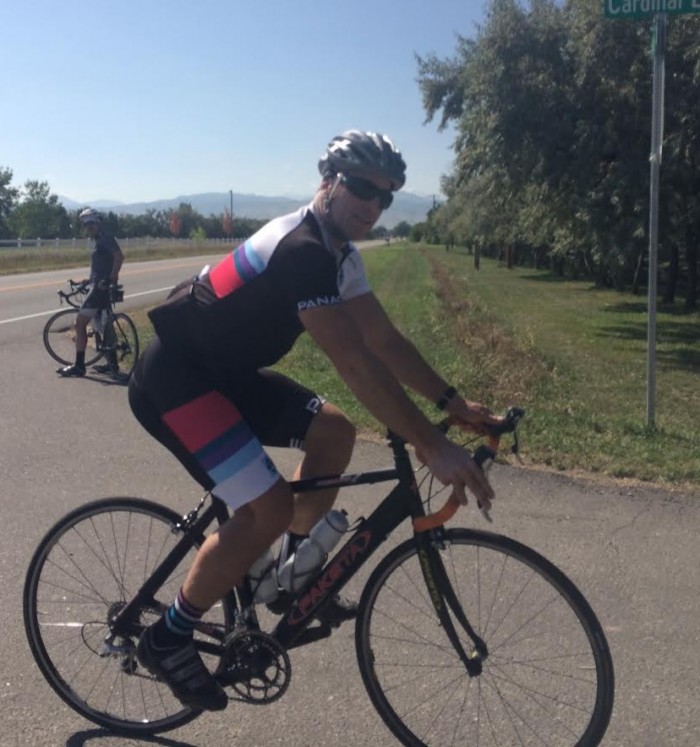 The Grand Prix Jersey has proven to be a reliable piece and, like the shorts, is subtly stylish sans any third party logo-fication. The Grand Prix Jersey does everything you expect from a high performance cycling top—wicking, snug, forgiving, generous back compartments that are accessible and a deep front zip for cooling off.
Don't give a damn about the peloton but enjoy your city biking with a passion? Panache has an app for that. Everyone at Panache has a quiver of bikes and just because they're cruising errands on a townie doesn't mean they overlook the benefits of having the right gear and the right style. I have been testing and falling in love with The Slim Ride Shirt and Button Fly Short.
These tailored fitting duds offer no clue that they are optimized for riding and to be honest I wore them off the bike as much as on the bike. The magic of these pieces is the subtle details: the non-saddle-catching cut of the shorts, the tiny stash pocket on the shirt that fits a phone/wallet but is not noticeable if unused, the stealth inside-the-pocket zipper compartment of the short.
If I could influence the designers at Panache I would aim for some more reflective elements to the kits and some consideration of the UPF issue for those of us who fear the sun as much as we worship it. Pretty minor feedback from a gear snob! If people can feel like pros yet look like stylish citizens, the world will be filled with happy riders and that makes this planet a better place to live. Panache is pushing the sport in the right direction.
Bravo Panache!

~
Love elephant and want to go steady?
~
~
Editor: Ashleigh Hitchcock
Photo: Courtesy of the author