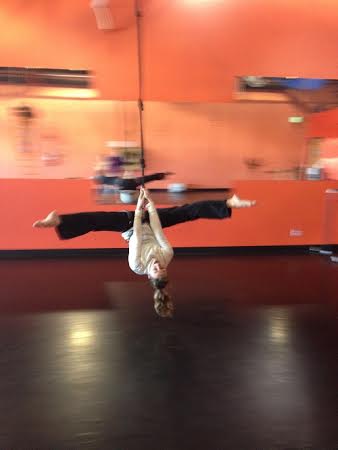 I was determined to add yoga back into my routine.
After moving to a quaint Southern California town four years ago, I walked into a new-to-me yoga studio. I finally felt settled and wanted to catch up on my then fledgling yoga practice. I had taken a class or two prior to my arrival but I was nowhere near a guru—calling me a beginner was a stretch.
I carefully edged my way into the yoga studio which was a refurbished garage—complete with large gong—and quietly staked my claim in a back corner.
Yoga Shanan entered the room and lit it up with her strong voice and undeniable confidence. The other students followed from inside the house. Most of them were older than me and as they filed in, I became filled with false confidence.
Before class they settled in and started catching up on recent accomplishments. With each personal vignette, dread filled my body. The breadth of experience and physical prowess of these she-women began to slowly sink into my soul.
One had just returned from a trek through Nepal. The other had recently climbed Mt Kilimanjaro—yes, in her 60's–and was wearing the t-shirt to prove it. The third woman was about my age and had just cycled her recumbent bike from the northern to southern tip of California.
Seriously?
The amount of my perceived inadequacy, in a room with these women, cannot be conveyed in mere words.
Escaping the class was not an option at this point. My safe, back corner had become my cage. Bricks, bolsters and blankets littered the studio while the imposing gong strategically blocked my direct route to freedom.
Compare and despair!
To be fair, these women were lovely and very welcoming.
As we continued to nestle in with our paraphernalia, Yoga Shanan asked about my previous yoga experience. I took the opportunity to downplay my familiarity with a yoga mat and let slip that I was momentarily and perhaps slightly, intimidated.
"Hey, we've all been the suckiest one in the room!" she laughed.
Well, that's one way to put it.
Yoga Shanan's lightheartedness and the unconditional acceptance of the other women ultimately made my first class enjoyable. There truly was an atmosphere of embracing one's own practice without judgment or competition.
Towards the end of class—while most of the ladies achieved strong headstands for minutes on end—I rested comfortably on my bolsters in a gentler pose, contemplating how I had overcome the hump of feeling ridiculous just by staying and trying.
By releasing any expectations I had for myself and allowing each person their own experience, I gained confidence and found a yoga practice for life.
It turns out that being the suckiest one in the room can actually be fun!
Not long after my first yoga class, I signed up to be an extra on a television show. Let me just say, there is nothing glamourous or ego boosting about that job.
I secured my first job because I had a truck. During sign up we were told unequivocally that when booked with your vehicle you should be very comfortable driving backwards and in tight spaces. That really didn't describe me but I was so eager to begin my acting career that I jumped at the opportunity.
Practically hyperventilating—wanting to throw up from anxiety—and afraid I might maim a celebrity, I drove my bookable truck through LA traffic at 4 am—no small feat—and arrived on set completely clueless.
Background acting is an entire culture of its own with a slew of unwritten rules. With great relief for having a knack for blending into my surroundings, I had a wonderful time, met new friends and Jennifer Love Hewitt was safe and sound at the end of the day thanks to me only having to park my vehicle and not drive it around the set!
Turns out, I'm getting really good at being the suckiest one in the room.
It probably won't surprise you to learn that recently at an aerial acrobatics class I was the oldest and most gravitationally challenged one in the room. Those ribbons flowing from the ceiling may look innocent enough, but pulling my middle aged frame onto those suckers is a feat of modern day physics.
Unlike the witches in the Wizard of Oz I do not defy gravity quite the way I did twenty years ago.
And I don't care.
I have learned to embrace being the suckiest one in the room.
There are no expectations, just a gentle easing into what is happening in the moment.
So go ahead and try it—whatever it is.
The experience will be delicious—and possibly hilarious.

~
Love elephant and want to go steady?
~
~
Editor: Ashleigh Hitchcock