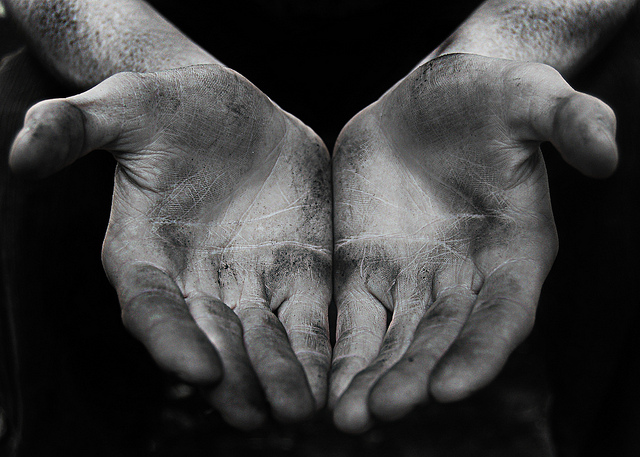 "Drop that plate right now!"
This was the order from a uniformed cop to 90-year-old Arnold Abbott, as he fed the homeless from his food station in Fort Lauderdale on Friday night.
Together with his wife, Maureen, they fed the poor and homeless people of Fort Lauderdale, Broward County, Florida on a regular basis.
After the death of Maureen in 1991, Mr. Abbott formed the all-volunteer, non-profit organisation Love Thy Neighbour so that their work could be continued on a larger scale, and it has been formally feeding those most in need ever since.
Abbott began his community work at age nine, when he wrote a letter to the Boston Traveler arguing against capital punishment. His words said, "The death penalty is only for the poor and not the rich." Abbott has since stated, "I have always been fighting for the underdog."
For 18 years, Abbott was involved in politics and was also a police commissioner. Never losing an election, he was the first Democrat to be elected in his area in 120 years.
In 1998, the city tried to shut down his operation, so Mr. Abbott filed a law suit stating it was a violation of his civil rights. It was decided that he could continue with his efforts to provide food to those in need at the beach until an alternative location was found.
The Homeless Assistant Centre that was set up only provided beds for up to 200 people, and as there are approximately 10,000 people homeless in Broward County, Abbott knew that his work there was not yet done.
The mayor of Broward County wanted Abbott arrested for his organisations and Mr. Abbott fought the proceedings—three times in the Circuit Court and twice in the Palms Beach Appeals Court.
Love Thy Neighbour won each battle.
Love Thy Neighbour's mission is "Giving a Hand Up, Not a Hand Out." They believe that with nutrition, counseling and training, the homeless people they assist will become contributing and productive members of society. With the help of charities and government entities they provide hot meals, clothes, temporary shelter and education—all of which they hope can then lead to gainful employment.
Based on the motto "Give a man a fish and he will have a meal for a night. Teach a man to fish and he will have food forever," Love Thy Neighbor holds a nine-week Culinary Skills Training Programme. This is so those individuals who are temporary housed can be trained in all aspects of culinary and sanitation, providing opportunities for a future career.
By Abbott's count, he has now served meals to approximately half a million homeless people.
However, on Halloween this year, a date known historically for sharing food, Abbott's Stranahan Park feeding site was shut down.
Mr. Abbott has been served with a summons to attend court, where he could face 60 days in jail and a $500 dollar fine for violating a new law that has made food sharing a criminal offense.
Fort Lauderdale passed an ordinance late in October, 2014 that includes a slate of new regulations on how groups are permitted to provide food to homeless people. According to a report by the National Coalition for the Homeless, this vote made the city the 13th in the nation since 2012 to pass restrictions with regard to food sharing.
The new regulations state that two separate feeding stations cannot be located within 500 feet of each other (or on the same block) and cannot be within 500 feet of residential homes. They also specify that a permit or permission needs to be granted by the property owner and portable toilets must also be provided.
Pastor Dwayne Black of The Sanctuary Church in Fort Lauderdale, Pastor Mark Sims of St. Mary Magdalene Episcopal Church in Coral Springs were also cited for violating Fort Lauderdale's legislation.
The ordinance in particular specifies that in order to carry out this good deed, they must provide portable toilets within 500 feet of the operation. Something that, at this time, the organisation Love Thy Neighbour has admitted is a financial burden they cannot carry.
Four police cars and six cops in full uniform turned up to Mr. Abbott's weekly food sharing event and threatened Mr. Abbott and the volunteers with arrest if they continued to share food with the homeless.
Out of 300 meals that had been prepared by Mr. Abbott and his team, only 4 or 5 were served before they were stopped.
Abbott stated, "I went through World War II. I fought in the Civil Rights movement. This won't stop us. All this did was move us to court earlier than we had planned." Mr. Abbott adds, "I have tried to abide by their regulations, but we just are not able to provide a port-a-potty, I believe that is the job of the municipality, anyway."
Despite Abbott facing jail time, with the volunteers by his side, he is not about to back down and is preparing to face the consequences full on. He has admitted that he will be attending his next weekly Wednesday night ( November 5, 2014) food-sharing event and is prepared for whatever action is taken against him.
"I know that I will be arrested again, and I am prepared for that," Mr. Abbott explained. "I am my brother's keeper, and what they are doing is just heartless."
He added, "I'm not afraid of jail. I'm not looking to go, but if I have to, I will."
Video footage shows the police officers ordering Abbott to "Drop the plate," as though he was holding an offensive weapon. The footage also shows the three men being removed from their food station and being taken away by the police while the gathered crowds shouted "Shame on you" and "The world is watching" at the police officers.
Ford Lauderdale has insisted that this new law is essential to combat the city's growing homeless population. Mayor Jack Seiler defended the actions saying, "I'm not satisfied with having a cycle of homeless in city of Fort Lauderdale. Providing them with a meal and keeping them in that cycle on the street is not productive."
Regardless of the growing criticism surrounding this case, the mayor vowed that "Just because of media attention, we don't stop enforcing the law."
Now, the focus is on Fort Lauderdale and whether they will bring shame on their city by sentencing this 90-year-old World War II veteran.
Is this a case of one city trying to sweep away a very real and growing problem by using sanctions to prevent one man helping another?
With the world watching, will Fort Lauderdale go ahead and enforce this new law and sentence these good Samaritan's to spend time behind bars for simply providing a hot meal for those who need it most?
Reference: 
Love elephant and want to go steady?
Author: Alex Sandra Myles
Editor: Emily Bartran
Photo: Mark O'Rourke/Flickr