New York is beautiful in autumn.
The lovely shades of orange and yellow leaves, the long sleeves, coats and scarves, the steam from street grates and coffee cups conspire to transform this large city into a cozy living room.
This was the romantic backdrop to my walks to four yoga studios in Manhattan. As a yoga teacher, I take yoga with me everywhere and I am perpetually interested in the latest and most innovative forms of teaching. So, what better place than the big apple to explore what is new and trendy?
New York yogis live hectic lives and demand quality practice in the short time they can afford for their wellbeing. So, I did my online research on the most popular yoga studios and I planned to attend a representative class at each one; a highlight class or a class taught by the owner.
Intended for the decisive and deeply engaged yoga practitioner, here is my ranking of the top four most popular studios in New York.
No.1: The Laughing Lotus.
Class: Body and Soul with Dana Flynn (co-owner).
1.5 hours, $20 walk-in.
The Laughing Lotus studio gets a five star ranking for spaciousness, layout and design. Walking into the studio is a treat for the eyes. The welcoming hallway displays colorfully painted murals with modern interpretations of Lords Ganesha, Krishna, and Vishnu.
The Dancehall, one of the three practice rooms in the studio features long vibrant drapery, a purple graffiti accented wall and to the front of the room, a provocative image of Lord Ganesha holding American bills in his left hand.
Without a question, the class I attended with Dana Flynn offered the coolest, most hip and fun yoga practice I have ever experienced. Dana walked into the room looking like a total rock star; hat, sun glasses and awesome baggy yoga pants. She came around to personally greet the new faces and to embrace her regulars. Immediately thereafter, the space felt warm and welcoming.
Dana started the class with some chanting and then some warm-up dance moves. We began the practice with an energizing flow that was set to cool 80s music. I have to admit, I was initially very hesitant about the music and the dancing but I was soon won over.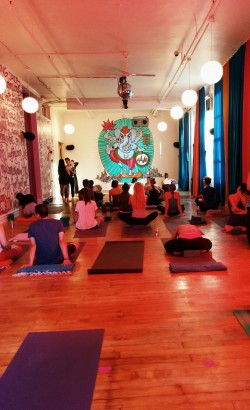 Dana introduced additional easy dance moves that she encouraged us to creatively and individually incorporate into the flow. It did not take long before hips were swaying and heads were jamming to her awesome playlist. Dana's repertoire provided challenging advanced poses like side crane and eight angle pose, although modifications for beginners were readily available.
I was really impressed by the way Dana introduced spirituality into her teaching.
She did so in a modern and accessible fashion without sounding new-age or "corny." There was an undeniable and contagious sense of joy infused into the environment along with teachings of non-judgement, non-harm and mindfulness.
I left my practice energized, happy and ready to mindfully face the incredibly busy streets outside. This joyful approach to yoga is perfect for the insatiable, hard to impress and restless New York crowd. Laughing Lotus is therefore on top of my yoga studio rankings.
No.2: Dharma Yoga.
Class: Master Sadhana with Yoshio.
1.5 hours, $22 walk-in.
Dharma Yoga is a close second to my top most favourite yoga studio in Manhattan. The space has a unique vibe that feels 'alternative' to trend-setting New York; perhaps it is more California-hippie than anything else. The studio is full of eclectic knickknacks, pictures and lights of all shapes and colors.
The environment in Dharma Yoga studio tells a story of long establishment and traditional grounding, indeed the studio was founded in 1975 and was previously known as the Yoga Asana Center.
The main practice room is huge; as big as a high school gym. Before the class began, I rested on my back to bring attention to my breath but it seemed like everyone else had already started their practice, sun salutation and all. All ten enthusiastic students seemed incredibly strong and flexible as it was—after all, a master class intended for teachers and advanced practitioners.
The instructor, Yoshio, came into the room quietly. He moved my mat behind a subtly drawn line on the ground so that the students stood facing each other with two meters of space in between. We started the class with two warming classic sun salutations and soon after, I found myself balancing in crow.
Within a very short period I was transitioning from standing splits to handstands, lizard to crane, wheel to headstand and forearm stand. Surely, this is not a class for everyone but I was inspired by Yoshio's graceful demonstrations.
He beautifully showed the full expression of every asana and my trust in his sequence increased.
Yoshio's choice of music was a mixture of spiritual tunes and chants, which contrasted nicely against the sweaty contractions of muscles. The class offered a true advanced practice, not only because of the challenging and fully immersing asanas but also because of the environment that Yoshio created and his ability to mobilize his students' inner strength.
This is the kind of class I would love to attend regularly in order to develop my personal practice and skills, both as a student and a teacher.
No.3: Jivamukti Yoga.
Class: Jivamukti Open with Monica.
1.5 hours, $22 walk-in.
Jivamukti Yoga is an institution and a philosophy in Yoga that embraces classical movement with breath. I attended the popular Open class that featured sun salutations with a focus on alignment, breath, and internal work.
Speaking through a microphone,Monica's calming voice was wonderfully audible over the soft music she played. She had a ton of spiritual guidance in the practice and offered skilful hands-on adjustments through which I experienced the most amazing assist for reverse triangle.
Monica''s sequence did not incorporate any pitta-seducing asanas like crow but she led us into continuous challenging engagement that had a kind and compassionate internal source of motivation. I enjoyed the calm generated inside of me as I broke a sweat and worked harder than ever. A meditation and savasana later, I went to shower in their facilities and left feeling super relaxed.
The studio gets bonus points for free yoga mat rentals.
No.4: Strala Studio.
Class: Strong with Tara Stiles.
1 hour, $18 walk-in.
A very underwhelming space, Strala is an empty room with one shinny focal point: Tara Stiles. The room was packed with students and I was surprised there was space for me and a few more late arrivals.
I could not hear Tara over the loud music she had going but soon enough I began to foresee the next Asana in the flow. The sequence had a genera framework and by following other students, I could make out a practice in the midst of it all.
The class was challenging and I broke a sweat, but I had no access to my inner world in the packed and boisterous room. Tara had a radiant presence; she laughed and chit-chatted with some students. Her relaxed attitude encouraged practitioners to chat amongst themselves as well.
I have to admit that I usually dislike chatter during yoga but in this context, with the loud music and the spiritually-barren practice, it sort of worked for me.
My favourite part was the full minute or two of handstand practice that was dispersed frequently. Tara would crank up the music and people would either go for several attempts at a handstand or chat.
To be honest, practicing inversions in close proximity to others is not ideal but it encouraged me to be more mindful of my movement. In the end, my sense of this class is that it is akin to a group workout session in a gym and seeing from the smiles on people's faces after class, it is fun. I am deducting points for the lack of facilities (Strala-specific washroom and shower), but it was certainly worth the visit and skipping the gym for a day.
Love elephant and want to go steady?
Author: Diana Younes
Editor: Catherine Monkman
Photo: Author's Own