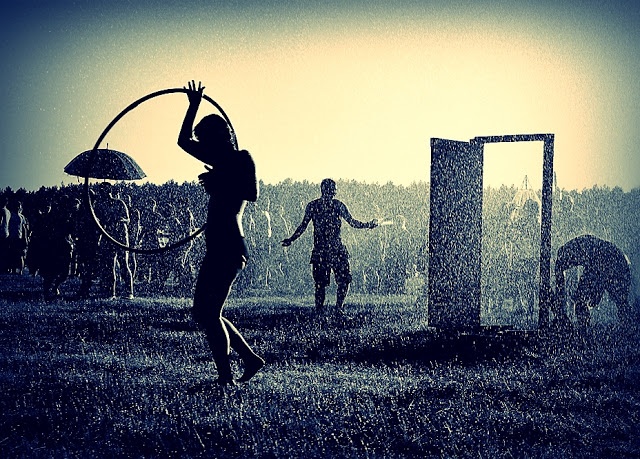 "Fear writes its signature all over the body, but we're all so used to it we've become desensitized to the loud-and-clear message of our body language," ~ Gabrielle Roth.
I am praying to open the door to my fears, as I swirl around in rhythm to trance music.
I am praying with every breath to enjoy this life—the blood pulsing through my veins and the thin layer of sweat over my skin—because I get so caught up in the grind that I forget that it is the moment in which I live: not the past, nor the future.
In these seconds of being lost in the movement, I am capturing little pieces of fear before they get lodged under my skin.
I am also unearthing that big obstacle—the "hotel" for all the little pieces of fear—who lives in the tightness of my shoulders where I hold the world up instead of falling forward, touching my toes—releasing what it is that I cannot carry.
Dangling my fingers over my toes, I think about my fears, especially that ridiculous self-depreciating fear that if I succeed—if I actually earn a living off my creativity, then I'll have an audience wanting more than I feel comfortable sharing.
They'll want to know silly things like what I ate for breakfast or the color of my underwear. I'll stand like a deer in the headlights, wondering why my little pieces of me matter instead of my creative acts.
I think about what I would say, as I roll upward—one vertebra at a time—until I'm standing with my hands in prayer in front of my chest, and laugh with my out-breath.
I'll stop this silly fear, now, with a single answer: I'm not telling, but if I did, then I'd say, it all comes down to that moment of waking up—I'll take whatever is in the fridge and whatever is in the dresser drawer. For me, being an artist is intertwined with being an introvert, so I create in spaces of quietness in order to share them in the public (not caring about trendy things, but what feels right for me).
As an introvert, I am often afraid to let go of my words, and so, in my sharing it's an act of bravery (and sometimes, pure impulsiveness).
I imagine most creative people—from Einstein to J.K. Rowling—experienced the subtle ordinary acts of fear in between capturing the extraordinary moments, and funneling them into creativity, into magic.
Today I'll capture those little pieces of fear, and blow them into the breeze before I settle into the daily tasks of writing, editing, and daydreaming (every artist knows this last part is the most important key in the creative process, right?).
For now, I fearlessly share these words with you: enjoy the beauty in our moments because that's all we'll really ever have, and that's what I call magic, my friends.
Love elephant and want to go steady?
Author: Jes Wright
Editor: Renee Picard
Image: Pixoto