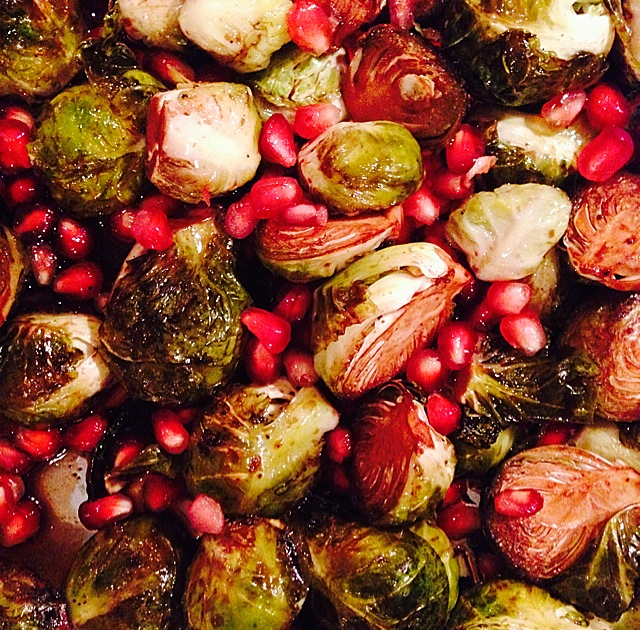 This is a perfect, healthy Autumn side dish.
Purchase either a stalk of Brussels sprouts or there are pre-washed options ready in bags (avoid plastic if possible!). Ask your local farmer or CSA if they're carrying Brussels while they're in season.

1 1/2 lbs Brussels Sprouts 
2 tbsp olive oil or melted coconut oil (if you want a slight coconut flavor)
1 tbsp balsamic vinegar
1 tbsp maple syrup
1/2 tsp salt
A few grinds or sprinkles of black pepper 
Cut Brussels sprouts off of the stalk close to the bottom of the sprout, remove any damaged or icky leaves and place in a colander for rinsing. Clean Brussels sprouts under cold water and pat dry off. Cut each Brussels sprout in half, lengthwise (top to bottom). Place all halved sprouts in a medium mixing bowl and add in the oil, balsamic vinegar, maple syrup, salt, and pepper.
Mix together until each sprout looks pretty thoroughly coated. Place in 9 x 13 baking dish (I prefer glass) in preheated 375 degree oven.
Roast for 25-30 minutes at 375 degrees, stirring halfway through.
Add pomegranates and chives as garnish once they're done roasting. Toasted walnuts or pecans (about 1/2 cup) would also be a tasty addition.
Enjoy!
Love elephant and want to go steady?
Image: Author's own