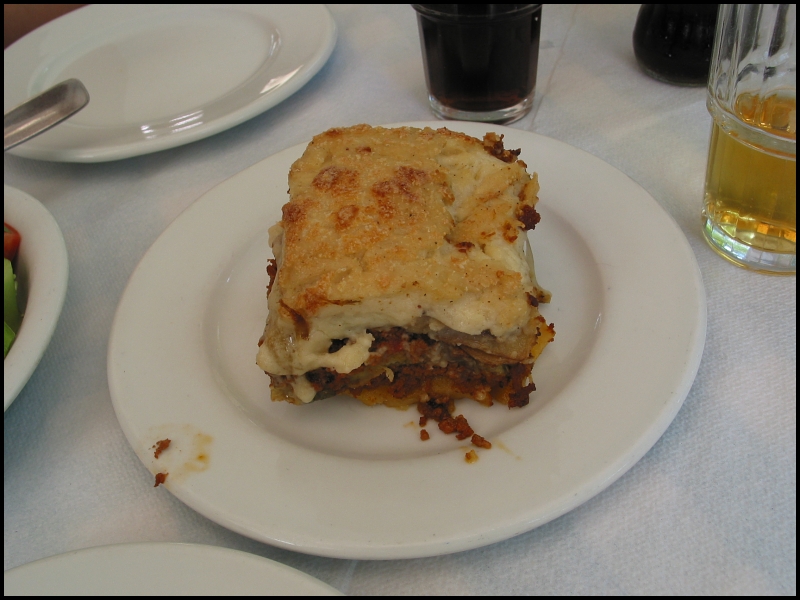 Have you ever had Moussaka?
I think the first time I ever heard of it was when I saw "My Big Fat Greek Wedding," and the main character mentions it as what her parents packed her for lunch every day instead of the white bread sandwiches all the cool girls ate.
Well, I have since become better acquainted with this amazing Greek dish, and I have to say, I'd have preferred Moussaka to a white bread sandwich any day! It's delicious and comforting, and while not always made vegetarian, it really doesn't need meat to be a truly awesome and hearty meal.
Here's how to make some for yourself (serves approximately six):
2 eggplants
1 onion
2-3 potatoes
1/2 cup feta cheese
1/4 cup pecorino cheese
1 cup mushrooms, porcini, crimini or portobello
1 can of chopped tomatoes
1 tsp each oregano, rosemary, thyme
2 cloves garlic
salt to taste
To make, start by pre-heating the oven to 350 degrees F. Then finely mince both the onion and the garlic. Get them sizzling in a pan until they're fragrant and starting to brown. Then add the can of tomatoes, along with the oregano, rosemary and thyme.
Roughly chop the mushrooms and add them in to the sauce. Let it simmer for about 7-10 minutes to make a ragu.
While it's cooking, slice the potatoes into thin disks and set aside. Slice the eggplant into disks as well, sprinkle them with a little salt and set aside. Then in a baking dish, layer the potatoes to cover the bottom of the tray. Then spoon the ragu over them in a thick layer.
Top that with a layer of the eggplant. Cover it and let it bake for about 20 minutes. Then remove it from the oven, crumble the cheeses over the top and return it, uncovered, to the oven.
Bake for 15 minutes more, the cheese should be golden and bubbling on top. Then take it out and allow it to cool and set for about 20 more minutes.
And there you have it, an awesome vegetarian moussaka! Serve it along side some green salad for an awesome dinner.
Enjoy!
Love elephant and want to go steady?
Author: Kathryn Muyskens
Editor: Catherine Monkman
Photo: Wikimedia Commons