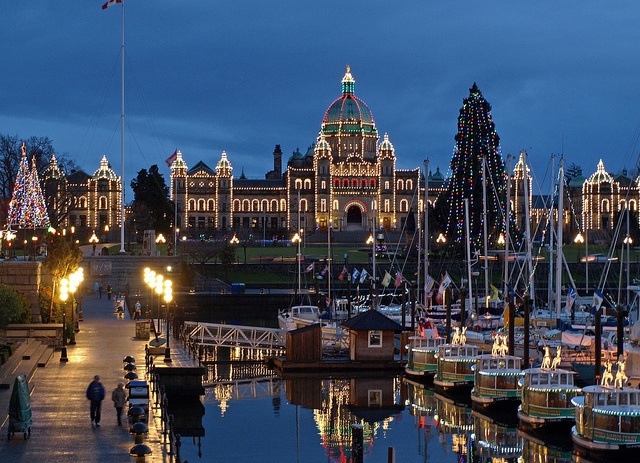 Snow: noun.
1. Meteorology. a precipitation in the form of ice crystals, mainly of intricately branched, hexagonal form and often agglomerated into snowflakes, formed directly from the freezing of the water vapor in the air.
Even the definition is beautiful.
It is -40 degrees Celsius in Medicine Hat, Alberta (before windchill) and I'm outside, shovelling snow. Everything on me (including my shrivelled up, cranky heart) is frozen.
I curse the snow. I curse where I live. I manage to slip on a patch of ice and I curse the ice, the dark, my choice in pants, my frozen fingers. I'm ungrateful and miserable.
I am momentarily completely self-absorbed—and frankly, nasty.
That was before.
I spent the last year in Victoria, BC. The day of the first snowfall, (lovely fat flakes that melted before they hit the ground) I dressed accordingly and set out to go about a regular day, not realizing I was in the midst of something astonishing.
It was as if the entire city was about six years old. Pausing to purchase a coffee, people in the store were actually gathered around the windows, watching the snow, agog. "It's so romantic!" a stranger commented to me. I nodded and pulled out my book, prepared to ignore this city-wide weirdness. Ready to sink into a book-revery (the best kind), I snuggled into my seat.
Then I took one last glance outside.
The flakes were huge, lovely, spinning down through the absolute exquisiteness of downtown Victoria. The inner harbor was to my right, where the snow fell softly on the boats moored there and the people strolling—in typical Victoria fashion, a mix of local eccentricity, business people and tourists—clearly enjoying every moment.
I put down my book and watched—not just the gorgeous first snowfall, but the people, young and old, clearly caught up in the magic of it.
I had forgotten the awe of the first snow.
It's true—we do love our winter sports in Alberta. We are a mecca for heli-skiing, snowboarding, snowmobiling—anything you can imagine that involves trekking out in deep snow and enjoying oneself. But in the city, it's a nuisance. The first snow hits and we don't revel in wonder—we say doom-filled things like "and so it begins" and "here we go again".
We complain. We swear. We get angry.
That entire winter in Victoria changed my perception of winter. Now back in Medicine Hat, I'm sure I'll have my grinch-like moments as I dig out the shovel to clear the walks after having practically just moments before removed my snow gear—but this year I've lost the negativity (mostly).
Shovelling snow feels blissful. My body is strong and capable. Leaping into a pile of snow with Liam is nothing less than pure joy. Yes, there are those awful, freezing moments in the morning when you are madly trying to scrape ice off your windshield and snow is flying directly into your eyeballs and turning your earlobes into crusty pieces ready to snap right off—but there's also the moment when you enter into a warm house and feel the relief of the cold melting off—and move to the window to gaze at a lit up street and piles of gorgeous whiteness everywhere.
Mittens are cute. Boots are fun.
Watch some children on a recess break in the snow: they throw it, pack it, stomp in it, kick it—they do everything but curse it.
Walk a dog in the snow. They leap, pounce, snuffle, bite the snow.
This year, I hope to stay in the mindset of Victoria and marvel at the inexplicable magic of winter.
I hope you do too.
Love elephant and want to go steady?
Author: Keeley Milne
Editor: Renée Picard
Photo: courtesy of the author