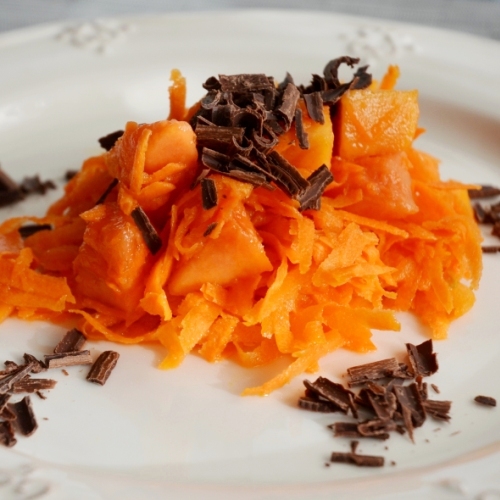 Chocolate doesn't have to be used only for dessert!
When we use dark chocolate that contains 75 percent or more cocoa, it can make a delicious topping for salads and other dishes.
I created this colorful recipe with the holiday season in mind, wanting to make a healthy salad that's also exotic and festive. It makes a wonderful appetizer that pairs the crunchiness of carrots with the tenderness of papaya and the bitterness of dark chocolate.
It's beyond easy to make and will only take 10 minutes, which makes it a last-minute dish that's perfect for a busy holiday season cooking night. It will also light up your table with its bright colors.
What you need for four people:
4 medium carrots
¼ papaya
3 tbsp. lemon juice
3 tbsp. olive oil
1 oz. dark chocolate (75 percent cocoa or more)
What you do:
Grate the carrots. Peel and cut the papaya into small chunks. Place in a salad bowl.
Add lemon juice and olive oil, and mix well.
Serve a portion of salad on each plate, and grate some dark chocolate on top as well as on the plate.
Then, go ahead and tell your friends you ate a carrot and chocolate salad!
Love elephant and want to go steady?
Author: Anne Ricci
Editor: Renée Picard
Photo: courtesy of the author