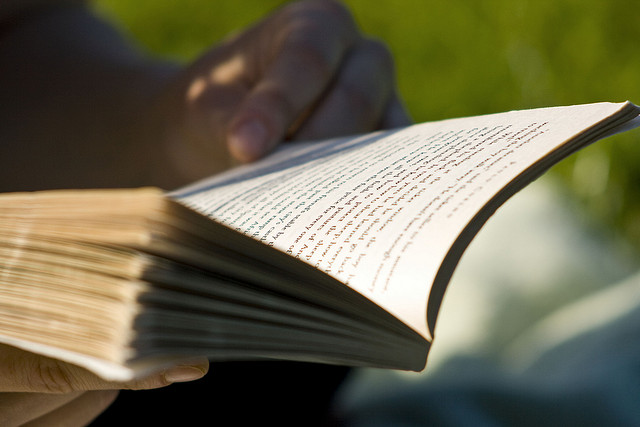 In the land of elementary school, we have what's called D.E.A.R. time. The acronym stands for Drop Everything And Read.
I know reading actual books isn't sexy or as popular as it used to be. Many kids (and adults) would rather watch movies, get on Facebook or play video games.
I myself just recently overcame a long addiction to Candy Crush. I realized it was a problem when my obsession with the game began to adversely affect my marriage and other relationships. In the past, when I'd deleted the app from my iPad, I'd always replace it within days with another, eerily similar game. This time, the purge seems to have stuck.
If only getting rid of all our detrimental habits was as easy as a couple of clicks!
When it comes to reading, the key is to find a book that thrills you. Kids and teens who say they hate to read usually hate it because they've been forced by their school's curriculum to read certain texts and, at the high school level at least, to analyze them to death.
There is plenty of wonderful young adult literature, including graphic novels, out there that can turn a reluctant reader into a passionate one. But that's a subject for another post.
My current literary passion is trending toward nonfiction. Here are five fantastic books I am currently enjoying or have recently perused. May they be of benefit!
Planting Seeds: Practicing Mindfulness with Children by Thich Nhat Hanh & the Plum Village Community

I adore every single thing about this book, and I'm only on chapter 4. I am so glad I invested in the paperback version. I am not opposed to e-books; actually, due to living abroad, I read most of my books on a Kindle. This one is worthy of holding in my hands, feeling the pages turn. It also comes with a companion audio CD of mindfulness practices for kids. It is not just for kids. It's for everyone who has a kid, works with kids or ever was a kid.

Paula by Isabel Allende

Beware: this memoir will break your heart. Latina literary superstar Isabel Allende wrote it as a letter and a tribute to her daughter, Paula, who died at age 28 after a sudden, unexpected illness that led to her being in a coma for a year. It details Isabel's life experiences as a child, teen, adult, Chilean political refugee, mother, wife, lover, seeker and writer. Amazing!

One Dharma by Joseph Goldstein

Buddha wasn't a Buddhist. Learn about the origins of Buddhism and many of the numerous lineages and historical schisms. I'm in the middle of this one and fascinated, especially by the way Goldstein imparts his knowledge and experience of this deep, rich Eastern tradition in a Western manner. The seeds of dharma that have been planted here in the United States are blooming in such fascinating, powerful, interesting ways!

Total Freedom by J. Krishnamurti

J. Krishnamurti is, hands down, my non-guru guru. I simply adore his philosophies, writings and attitude. Truth is a pathless land. Very early in his career, he renounced his position as the world leader of a large spiritual organization, and from that point until his death decades later, he traveled the world spreading a revolutionary message of peace, love, self-knowledge, truth and freedom. For the love of God, please drop everything and read anything by Jiddhu Krishnamurti.

Faith by Sharon Salzberg

This book is part-memoir, part spiritual guide. Buddhist teacher Sharon Salzberg is eloquent, compassionate and helpful in sharing her ideas and vast knowledge about a tricky, huge topic that so fascinates us all, faith.
What books are you enamored with these days? I always enjoy hearing readers' suggestions, so please leave a comment if inspired. Fiction, nonfiction, poetry, prose, anything goes!
Love elephant and want to go steady?
Author: Tracy Morrow
Editor: Renee Picard 
Photo: Sam Greenhalgh at Flickr