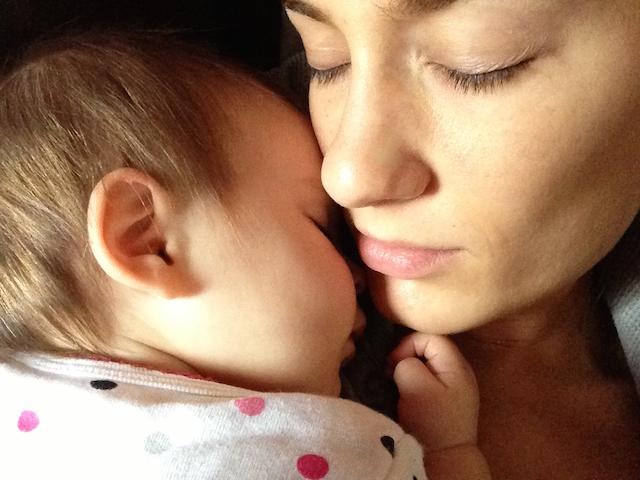 When it is before 5a.m. and the world is asleep and the baby girl cries until she is in your arms—enjoy it.
There will be a day when she tells me to get out of her room or to leave her alone and I will long for the days when all she wanted was to crawl into my arms and nurse.
Yes, not getting enough sleep is difficult and rocking her for 90 minutes while my arm goes numb just so she can get more sleep can feel like torture, but I remember—it is just a phase.
Now that it gets light earlier, I'll get to see those pretty little puckered lips while she sleeps and remember what it is all for.
At times the sleep deprivation will feel like too much but I am stronger than I know and I will get through it one day at a time.
It will not last forever—it is just a phase.
There will be a day you long for that beautiful face to be six inches from yours with time to examine every eyelash.
I will relish the time with her little heart on top of mine. At one time she could hear my heart from the inside and now she lies on top of me.
This is evidence that physical separation will continue, slowly but surely. It is what is supposed to happen.
Yes, in the evenings I find myself too tired to do the things I want to do.
I forgive myself.
One day I will make that online photo album, do yoga every night before bed, read that thick book on my nightstand, make my own almond milk and catch up on my DVR.
Today is not that day.
I forgive myself.
Those things aren't going anywhere.
The little girl in my arms, on the other hand, is.
Life is just a series of phases.
Enjoy every one.
r~
Love elephant and want to go steady?
~
~
Author: Leanne Reina Paolazzi
Editor: Ashleigh Hitchcock