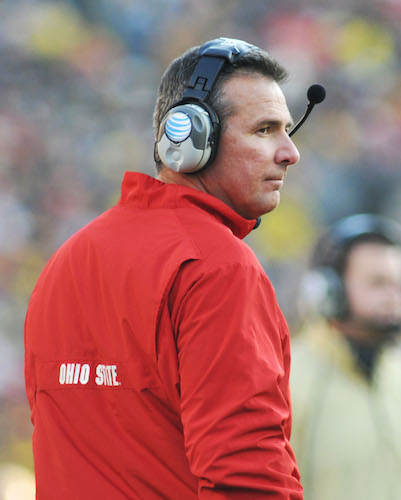 The Ohio State Buckeyes win the first College Football National Championship in the playoff era with a dominating performance over the Oregon Ducks, 42-20.
The national championship game, as are many college football games, is quite a spectacle to behold. Celebrities, such as, Lebron James roaming the sidelines, people with painted chests and faces screaming like Lord of the Flies, corporate advertising everywhere. Despite all of the hoopla and the millions of dollars to be made by the two schools, television networks, and so on, the game itself had several interesting story lines and provided plenty of entertainment.
Cardale Jones, the third string quarterback in only his third career start defies the odds again to complete 16 of 23 passes for 242 yards and a touchdown. He also rushed for 38 yards including several key third down runs and rushed for another touchdown.
After two Ohio State quarterbacks fell due to injury, Jones made his first career start in the Big 10 Championship game where Ohio State demolished Wisconsin on way to a 59-0 victory.
As Chris Fowler, who called the game for ESPN, noted, Ohio State's final three games were against three Heisman Trophy finalists, and Ohio State won them all in impressive fashion.
Running back Ezekiel Elliott carried the ball 36 times for a National Championship record 246 yards and four touchdowns.
In likely his last college game, newly crowned Heisman winner, Marcus Mariota threw for 333 yards and two touchdowns, but never got his offense in its customary explosive form after the first drive of the game where Oregon marched down to an early touchdown.
Ohio State overcame four turnovers to cap off their championship season, finishing with a record of 14-1.
The beginning of the college football playoff system was a resounding and exciting success. Congrats to the Buckeyes who capped of a historic season and Urban Meyer who coached his third national champion, after winning two previously with the University of Florida.
Love elephant and want to go steady?
~
~
Author: Travis May

Photo: Wikipedia