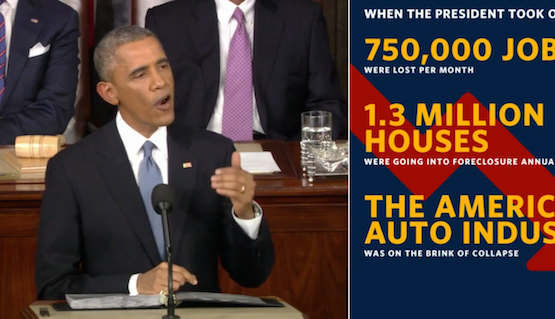 Highlights and Summary and Funny Moments and Graphs: The State of the Union Address.
Complete President Obama State of the Union Address video:
"Every 3 weeks America brings online as much solar power as we did in all of 2008."
Complete Enhanced Video:
Bonus: #SOTU + Dubstep!

"If we're going to have arguments, let's have arguments – but let's make them debates worthy of this body and worthy of this country."
~ President Barack Obama #SOTU
"Today, we're the only advanced country on earth that doesn't guarantee paid sick leave or paid maternity leave to our workers," Obama said.

"And that forces too many parents to make the gut-wrenching choice between a paycheck and a sick kid at home."
"Thanks to lower gas prices and higher fuel standards, the typical family this year should save $750 at the pump," Obama said.

"Let's close loopholes so we stop rewarding companies that keep profits abroad, and reward those that invest in America."
Obama Calls Out Republicans for Their "I'm Not a Scientist" Line:
"Well, I'm not a scientist, either," Obama said. "But you know what – I know a lot of really good scientists at NASA, and NOAA, and at our major universities. The best scientists in the world are all telling us that our activities are changing the climate, and if we do not act forcefully, we'll continue to see rising oceans, longer, hotter heat waves, dangerous droughts and floods, and massive disruptions that can trigger greater migration, conflict and hunger around the globe. The Pentagon says that climate change poses immediate risks to our national security. We should act like it…I am determined to make sure American leadership drives international action," he said.
Obama's new tax plan:
From the NY Times:
Republicans remained notably silent — when the president talked about the roughly 10 million people who "finally gained the security of health coverage," and then moments later, when he extolled the "fastest economic growth in over a decade, our deficits cut by two-thirds, a stock market that has doubled, and health care inflation at its lowest rate in 50 years."

Noticing the stoic Republican lawmakers, the president briefly paused and ad-libbed a line: "That's good news, people," he said with a grin.

Popularity comparison:

The Recovery:
Mr. Obama has pledged to veto the Keystone Pipeline. "Twenty-first century businesses need 21st century infrastructure – modern ports, stronger bridges, faster trains and the fastest Internet. Democrats and Republicans used to agree on this. So let's set our sights higher than a single oil pipeline," Mr. Obama said. "Let's pass a bipartisan infrastructure plan that could create more than 30 times as many jobs per year, and make this country stronger for decades to come."
On Cuba: "When what you're doing doesn't work for 50 years, it's time to try something new."

On Iran: "…For the first time in a decade, we've halted the progress of its nuclear program and reduced its stockpile of nuclear material."