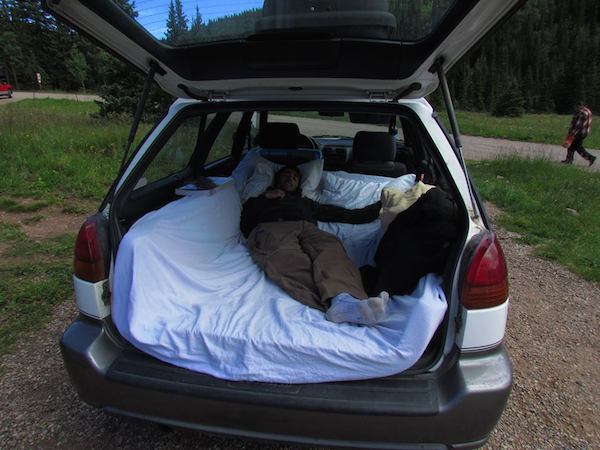 It is more than a week after many have made their New Year's Eve Resolutions.
This probably means that most us have forgotten—or are at least on the road to forgetting—that we ever made them.
Until New Year's Eve this year, my resolution was around writing more. Then, on December 31st my sister posted this Facebook:
"Happy last day of 2014! What was your favorite thing about the last year?"
For my husband, David, and I 2014 was the year of many New Year's Resolution-y accomplishments. We both got very good jobs. We bought a house. We traveled in Europe and throughout the U.S. (Some of these trips we were even sponsored on and went for free.)
We wrote a book that was a #1 Bestseller on Amazon.com.
We made new friends, we hung out with old friends, and we had good times with family. We saved more money than we ever have. David did exceptionally well in school.
And, yes—I wrote. (Just not quite on the schedule I so brazenly promised myself at the end of 2013, or at the end of 2012, or even 2011). Some of what I wrote went on to be shared tens of thousands of times. Some inspired people from all over the world to write in and thank me.
One of my pieces ended up on the cover of Cosmopolitan magazine.
And after all of this—what was my answer to my sister's question? What was my most cherished memory of 2014?
Sleeping on a memory foam, at various campgrounds around Colorado, in the back of our 1999 Subaru.
In the midst of what society considers fairly significant material success and recognition—sleeping in the back of a Subaru (don't knock it until you try it) built four years after I graduated from college, was the first, the most significant and my favorite memory of 2014.
Had you told me this on December 31, 2013 I would have never, not in a million lifetimes, believed you. At that time, I wanted more financial security, more recognition for writing, to no longer live in an apartment and to travel for free. And although I am very grateful for all of this, they were not the first things I remembered when looking back over the last 12 months, and it is likely not what I will first remember when looking back over a lifetime.
In talking to and hearing about people who have attained success and recognition far more notable than I have, I often hear the same thing: "When I got there, I was like 'Is this it?' "
How many more New Year's Eve Resolutions do we need to realize if we are not incapacitated by elation when we meet our goals, and we are spending the majority of our time, energy, love and resources in meeting them—aren't we kind of setting the wrong goals?
And how many more New Year's Eves do we need to realize that when it becomes more about accomplishing the goal, than about enjoying the process of reaching it—we tire of it quickly and this is why we quit.
And how different would our year be if we didn't make our resolution about writing two books or running a marathon or losing 15 pounds, but about loving writing and running and health? How much more likely would we be to actually meet our goals if every time we set out to do them we thought, "I want to enjoy this" instead of telling ourselves to "do it because we said we would."
If we are going to take the leap to say, "My 2015 resolution is to enjoy, say, running, writing or health" —why stop there?
Why don't we all say our New Year's Resolution is to just enjoy 2015?
This means knowing that on some days this will mean our heart tells to write 10 pages and some days our heart will tell us it doesn't feel like writing at all, and as long as we commit to enjoying whatever we do—we are meeting our goal.
And if we approached the whole year like this, with the mindset of enjoying all parts of it, when December 31, 2015 arrives, and you are asked about your favorite thing of the year—how great would it feel, regardless of the number of pages you wrote, miles you ran to say or pounds you lost to say, "I set out to enjoy the hell out of it—and I did."
Love elephant and want to go steady?
Author: Linda Rubright
Editor: Renee Picard 
Photo: author's own