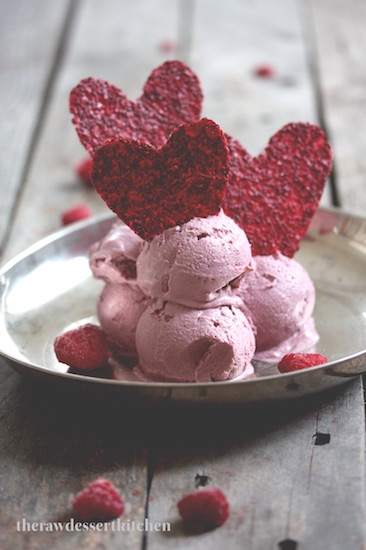 Ice cream in February?!
Yes, my friend.
Ice cream has no season in my book.
This post is in honor of Love.
Not the romantic couples love that so many singles want to skip during Valentines—but Love. Nothing more, nothing less.
So let this post be an inspiration to love yourself, whether you are single or in a monogamous or poly relation-constellation.
Creamy Raw Ice Cream For Valentine With Chia Hearts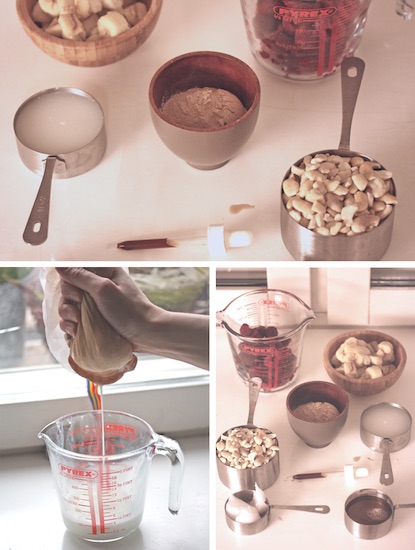 Serves: About 5-6 ice cream balls. Double the recipe if you want more! (Recommended)
Prep time: Start the night before with the Chia hearts and the ice cream needs to deep freeze over night.
• 1 cup Cashew (soaked for 3 hours)
• 1 cup frozen Raspberries
• 1 cup frozen Bananas
• 0.5 cup Coconut milk (can be substituted to water) = Blend 0.5 cup unsweetened shredded Coconut with a little more than 0.5 cup Water, press through a nut milk bag, see image below.
• 1/3 cup Agave nectar or Honey
• 2 tablespoons virgin Coconut oil
• 3 tablespoons Lúcuma (optional)
• 20 drops liquid Stevia vanilla (see the picture below)
• 1/4 teaspoon real Vanilla from pod
• A pinch of Himalayan salt
First add the Cashews + Agave + Coconut milk to the blender and blend for 1 minute.
Then add the rest of the ingredients and blend. Pour in a shallow container and put into the freezer overnight.
Raw Ice cream tips: The Lúcuma helps make the ice cream more smooth, so if you like raw ice cream, invest in a bag of Lúcuma!
I use both Agave and Stevia, since the Agave is needed to make the ice cream more creamy and less ice crystal forming. When you freeze ice cream, some of the flavors and sweetener is lost. Stevia isn't sensitive to freezing as most ingredients are, flavor wise, so adding some Stevia makes it so that you don't have to sacrifice the sweetness.
In a hurry? Skip the Chia hearts and soft-serve the ice cream after 1 hour in the freezer. Decorate with melted chocolate or chopped nuts.
Chia Heart Leathers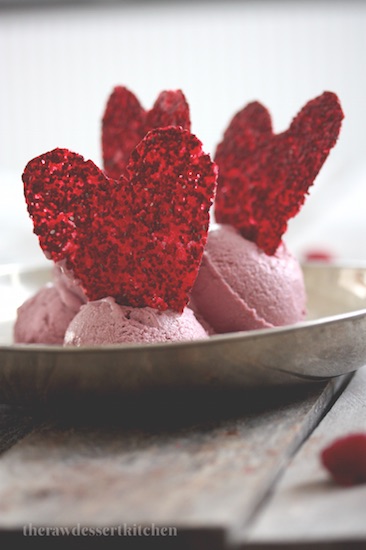 • 1 cup thawed Raspberries
• 2 tablespoons Chia seeds
Blend the Raspberries with the Chia seeds for 30 seconds. Spread evenly on a teflex sheet using a spatula. Put on a mesh tray and let it dry on 105° F overnight (8 hours). Remove the teflex sheet after 6 hours. You do this by carefully folding the side of the teflex sheet underneath the dough and slowly pull it to remove the sheet. Or, put another tray on top.
If your leather come out soft-ish it needs to dry more, until it is crisp hard. If you are interested in making different fruit-leathers, check out my eBookSnack Smarter where I dedicate a whole chapter to fruit-leathers.
Cutting hearts
First cut a triangle, then cut round corners until you have a heart shape.
Enjoy!
Author: Karolina Eleonóra
Editor: Emily Bartran
Photos: Author's Own