13,300,000 elephants. That's the colossal gray mammal equivalent to the amount of food the United States wastes each year.
133 billion pounds of food to be precise. This means our country throws away roughly 31% of our food supply annually and the estimate is often higher.
On a daily basis, while our country is throwing away the equivalent of 36,400 elephants into plastic bins and metal compactors, one in six Americans is food insecure. This means per day 50 million people do not know where their next meal will come from. This, in part, is where Boulder Food Rescue comes in.
Boulder Food Rescue is a food redistribution organization that rescues food from grocery stores and restaurants that would otherwise be thrown away and takes it to organizations that serve hungry, homeless and low-income populations.
BFR focuses on the distribution of fresh and nutritious produce which is often difficult to get and can be more expensive. So far, in three and a half years, they have rescued over 800,000 pounds of food and do it 88% by bicycle and bicycle trailer!
While this is incredible, it is only equivalent to about 80 elephants when around 13.3 million elephants worth of food is thrown away each year! Not only does this mean there is much more work to do, it also means food is continually thrown away at an alarming rate—simply minimizing this gap is not enough.
Something more must be done to address the root cause of this injustice.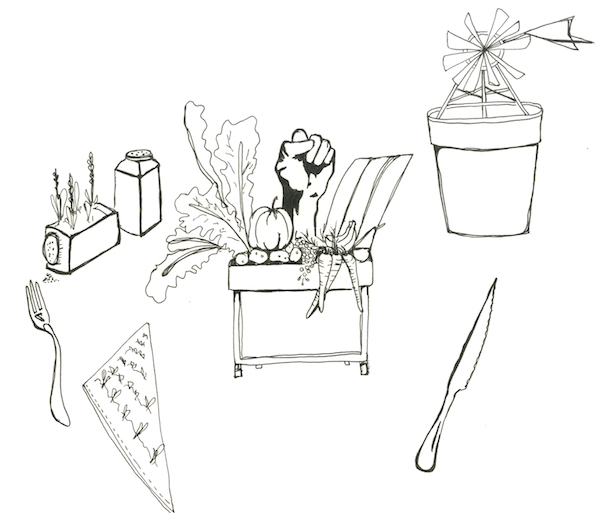 Boulder Food Rescue hopes to engage in a dialogue addressing why certain groups of people are more affected by hunger than others by addressing the root cause of hunger which is a systematic problem. 
More specifically, low-income communities and communities of color are disproportionately affected by hunger. According to the No Kid Hungry campaign by Share our Strength, an organization fighting to end hunger and poverty,
"The national average of households with food insecurity is 10.9%. Black households experience food insecurity at a rate of 21.8% and Hispanic households experience food insecurity at a rate of 19.5%. White households experienced food insecurity at a rate of 7.8%." 
Clearly certain groups of people are affected by hunger more than others, but it is important to address key questions; Why is this happening and what can be done to change it?
Boulder Food Rescue is hosting the second annual Forward Food Summit to discuss these issues. They hope to provide a platform to critically analyze and address the intersection of race and the food system. The summit is oriented toward increasing community collaboration and the integration of social justice principles into their operations.
The main goals of the Forward Food Summit are to create a platform and facilitate the collaboration between food justice activists, academics and policy makers by providing them a space to share ideas and discuss the symptoms and root causes of food issues, while educating the public as well. The focus of the summit this year is on the intersection between food security and race.
Tickets are $40.00 for the general public, $15.00 for students and a no person turned away for lack of funds policy.
For more information, please check out the Facebook page here and click here to register for tickets. See you there!
Nina Holtz, Coordinator
Allison Blakeney, Program Director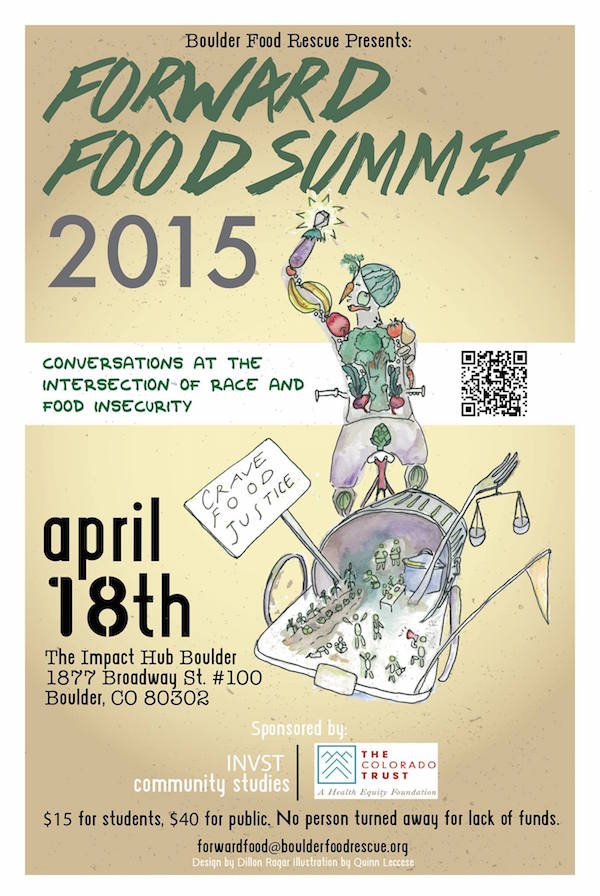 ~ 
References: 
Buzby, Jean C., Wells, Hodan F., Hyman, Jeffrey. "The Estimated Amount, Value, and Calories of Postharvest Food Losses at the Retail and Consumer Levels in the United States." United States Department of Agriculture. Economic Research Service, February 2014. Web. 12, February 2015. http://www.ers.usda.gov/media/1282296/eib121.pdf. 
"Hunger and Poverty Fact Sheet." Feeding America. Web. 12, February 2015. http://www.feedingamerica.org/hunger-in-america/impact-of-hunger/hunger-and-poverty/hunger-and-poverty-fact-sheet.html
"Food Insecurity, Children, and Race." No Kid Hungry Share Our Strength. Web. 12, February 2015. http://join.nokidhungry.org/site/DocServer/Food_Insecurity_as_it_relates_to_Race_and_Ethnicity.pdf
~ 
Author: Nina Holtz & Allison Blakeney
Editor: Rachel Nussbaum
Photos: Boulder Food Rescue