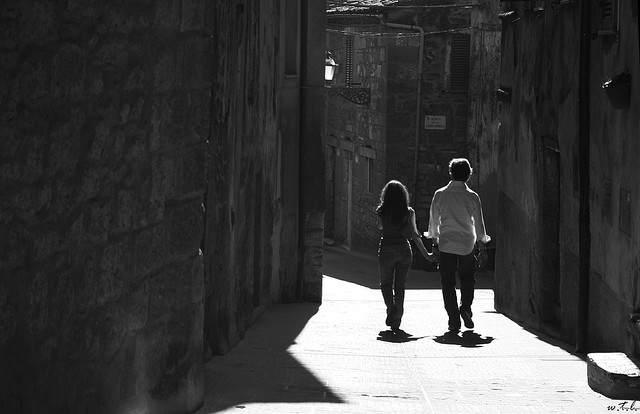 As I waken you are curled around me, breathing me in.
The familiar semi-hard, semi-soft twitching always makes me grin.
I rock my hips ever so subtly; the invitation has been extended and
your hands begin to roam.
I turn towards you and the twitch becomes more pressing.
No softness to be felt now, replaced instead by an irrepressible desire
for physical occupation.
You stroke my back and I'm ready for you in a heartbeat.
Afterwards we doze a while until hunger stirs us to rise.
You shower first while I lay in bed
stretching my body and looking forward to the day ahead.
As I shower you cook.
Sometimes it's the other way around, but today this is how it goes.
We chat and laugh and plan the day:
a walk, lunch with friends, a cozy night in.
Home-cooked food, delicious and hearty (like you),
prepared together and lingered over.
A roaring fire, a bottle of red, and a film—
a comedy; we fondle and laugh our way through the evening.
A simple day; and yes, it's a cliché.
But so is the other, the one not for us:
the crowded restaurants filled with couples
drinking champagne and—surprise—proposing.
Drifting off on the sofa, you gently wake me.
Time for bed, you undress me and then yourself.
Though sleepy, I still want you.
I always want you.
Physically and emotionally fulfilled, in our own romantic haze
we drift off to the land of nod.
This is how we express our love for one another.
No cards or gifts—nothing out of the ordinary,
but simple everyday romance that makes my heart sing.
A perfect day—special and not special—our weekend ritual;
filled with loving touch, affection, laughter, companionship.
And a ride and a cuddle to book-end to the day.
Relephant Reads:
Author: Hilda Carroll
Editor: Travis May

Photo: Dr Wendy Longo/Flickr