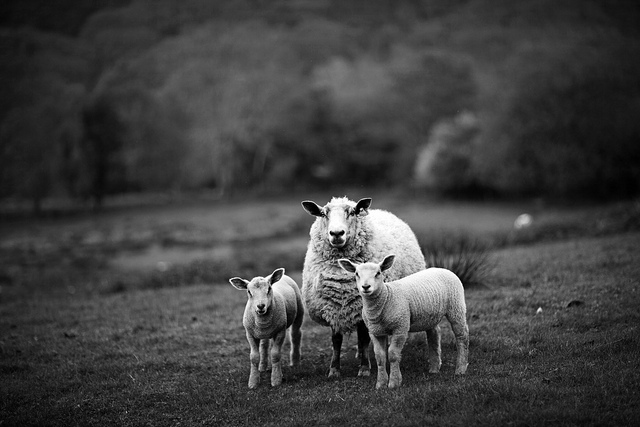 How to have the Best Year Ever.
Life is short. Let's get one year right, shall we?
It's now officially the Year of the Sheep.
Or the Goat, depending on who you ask.
In the Eastern Calendar, or Chinese or Tibetan calendar, the Year of the Sheep/Goat is said to be one of harmony. You can read about it here (in this article by my Lama mamma).
But as a lifelong Buddhist, I've been well-trained not to "believe" in anything I don't have evidence for. I'm therefore well skeptical about the ability of "the Secret" to find me a parking space, the power of crystals to neutralize microwave radiation, and the effect that Mercury moving this way or that has on my love life.
That said, a proper definition of skepticism is openness, not closed-mindedness. Show me a ghost, I'll "believe" in ghosts pretty fast.
Shambhala Day, or Losar, or the Eastern New Year, falls neatly into that category of mumbo jumbo I'm open to. Every year has its cycles: Spring, Summer, Autumn, Winter, and now, soon, Spring again. The Eastern year wraps up around the end of Winter, when the accumulated aggression and speed and mindlessness of our busy, happy, harried, difficult year manifests in a denouement we Buddhists call Dön Season. It's the most dangerous time of the year—a time that's good for meditation, family, loved ones, reading a book with tea and staying cozy—and a time that's bad for travel, big decisions, and this. Thank goodness that's over with.
Now it's the New Year—an auspicious time for new beginnings, enterprises, a fresh start on relationships. You can read (and see my video) about it in depth here.
The other day, I invited the half of my elephant staff that lives in Boulder to the Boulder Shambhala Center (the other half of our editors reside in Florida, Alberta, Montreal, Slovenia, San Diego, Tel Aviv & Scotland. If a new hire works out, we'll have an elephant in Thailand, too). None of my fellow elephants in Boulder are Buddhist, but all were curious to dress up and celebrate the day and the year with the Sakyong, who I've had the honor to study with and interview. 
Having grown up in the Shambhala Buddhist community, I've celebrated many Shambahala Days. I love the good cheer and community and meditation and seeing families growing up and the community brunches, afterward.
But one of the joys of this New Year's celebration was seeing ‪Shambhala Day‬ through the eyes of seven ‪elephant journal‬ staff and two friends and my father–most of whom had never been to a ‪Shambhala Center‬ before. Two of them had met the Sakyong in ‪my home, Hotelephant‬, for our Walk the Talk Show video series–but now we got to see him address thousands at 200 centers globally. He gave an accessibly inspiring talk about offering peace to the world through first establishing a peaceful home life. ‪We can't fix the world through self-righteous aggression if we can't do our dishes or get along with a loved one, first.
And then he had us close our eyes and think about our intention for the year. And, the next 20 years. You might want to do that right now, for yourself.
The refreshing thing about Buddhists (and there are many annoying things about us), is that we are not encouraged to try and convert anyone. We just do our thing. We're as neurotic and wonderful as anyone—but the one thing we do have down is meditation practice.
Whether you're Jewish, feminist, vegan, Christian, an entrepreneur, atheist, a parent, Muslim, teacher or a Red Sox fan, meditation can help us to, simply, be more present, and more relaxed in times of challenge. You don't have to be Buddhist to meditate—thank god.
This new year is said to be one of harmony. But we all know that's bulls**t: it'll be as full of good and bad and happy and sad and ups and downs as any, really. How do I know? Because we're humans, on planet earth. The only tool we have to negotiate the waters of life with that we may not already be using is a simple technique to bring us back, again and again. The goal is not to not lose our mind—it'll happen. The goal is to come back, quicker, and with less drama or self-criticism.
Jolly good luck, sweethearts—and may this year be of great benefit to all!
PS: Thanks to each of you for supporting indie elephant in our rise to relevance—if we only preach to our choir, we're just creating another clique. What society needs is a "big tent" community strong and sweet and fun enough to tolerate experiences and opinions we don't already share.
Want to support elephant? Subscribe for a buck a month. Or, just keep reading free—either way, thank you.
Yours in the Vision of an Enlightened Society,