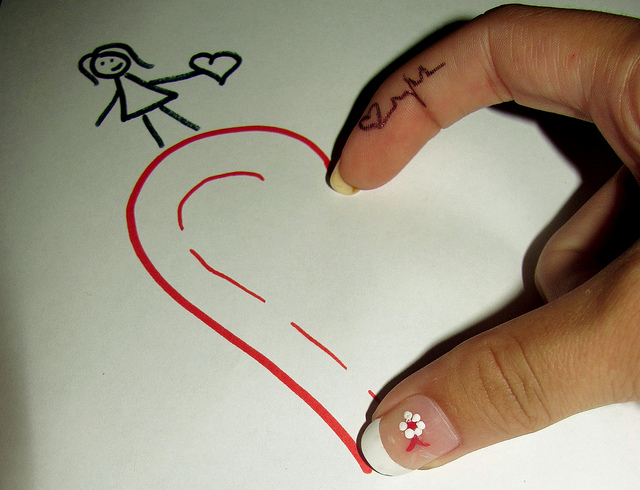 Caution: Adult content and language below! 
I wish I loved this month of February like the exploding cream-filled chocolates surrounding me bursting joy and deliciousness in my mouth.
I would like this month to not hold me hostage in autopsies of past conversations and moments shared, or dissecting how I could have held on like a rock climber dangling from fingertips—just a wee bit longer—to the thread of something we had, to ensure that this mid-month day is secured with romantic company.
I am in the jail of my own making (compounded by advertisers) and bond is posted in the form of a date. February has claimed my heart and it is dark and dreading how the day of one and four combined into a Hallmark sham.
If I were like Julius or Augustus Ceasar (who created July and August and their egos left back to back months at 31 days, hence leap year)…my Queenly heritage would grant me to enact a new month, one that I preferred.
When did colored hearts, doilies and frilly things become annoying to me? Was it in a heartbeat of rejection the moment I didn't receive the flower I wanted from him in high school or was it before that angst ever began? Was it the days and hours of expectation and anticipation result in a pressure cooker for just a one day event smack in the middle of a month have with the passing of time made my heart turn black.
I like black hearts!
Where is the candy for black hearts, with that slightly bitter black liquorice taste?
Why is no one accommodating us black hearts like they do with stories of Scrooge at Christmas?
We are here for you, marketing friends! There are a sizeable number of us who feel 'meh' about Valentine's Day at best. I have felt like a loaded gun of hot flashing fire dragon breath, anger at the injustices in the world combined in this one day catering to couple-doom. I think I would prefer to relish in the darkness of doubt and insecurity.
I do not want to be brought into the light. Let fear reign!
But I decide that I need to empower (fuck this world—I mean, word) myself and take back the reigns. February, you cannot control me and let me live in doubt forever. You just have one day—that consumes me and burns the candle at both ends—one in anticipation and the other often in shame.
I cannot let one day rule my whole month.
Love is apparently a choice. Yet, I would give myself an A+ on lackluster self-love, oh, so many times.  Sure, love is not just romantic.  (Thanks mom.)
But the one many of us silently, loudly, shamefully, intentionally, forcefully, joyously, or other are seeking, wanting, craving or trying to open to with divine guidance and surrender (oh god surrender…) is passionate, romantic love.
So, in my desire to ravish myself the way I wish you would if we were together, I will offer you a hint, and from this the beginning and you can improvise:
If I had my way, we'd be naked and warm in covers and you'd realize my belly deserves attention, so do my shoulders and the small of my back, oh yes…the nape of my neck down to the crack of my ass and likely my ass. 
Of course, my Bermuda Triangle of wonderment will be visited because men are sailors and like to visit Dreamland. 
But there is other territory to cover, map out, explore, receive, relish in and make known: So many toes, insides of thighs, backs of knees, earlobes and a nose. It's not commitment, just all your presence. 
Maybe that is more committed than you'll ever be. 
Just be fully contaminated with desire, for me, fully all over it like icing dripping over the top of a cupcake lusting up your mouth for more. Something between honeysuckle, lemongrass and the blues form a shimmering soundscape. And there are two rolling hills of breasts that have a valley in between and a waist to greet, and taste the corner of hips on streets named Freckle and Speckled and park yourself please on Blushing Lane because compliments are like money in slot machines—devoured and in demand.
Happy Hearts month to me, to you and all the fantasies around the corner. May your own desires inspire your solo or coupled—or anywhere in between—in this glorious month of February.
Relephant: 
Author: Jolie Carey
Editor: Renee Picard 
Image: Danielle Elder at Flickr