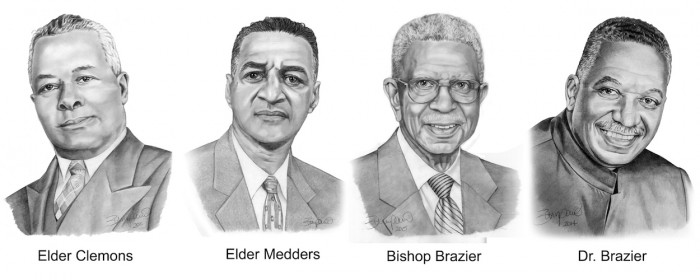 February 28 is the last day of Black History Month and my 10 year anniversary as a full time pencil portrait artist.
It's the perfect time to share this story.
I was asked to draw the pastor of a Chicago church around Christmas by a man named Steven Small who'd found me online. I almost said no, because I was overbooked, but I gave in.
I was rewarded in so many ways. Three more orders followed for portraits of all three of the previous pastors. And then, an invitation.
Steven told me the presentation of the portraits would happen on Sunday, February 22 with 3,000 people attending each of two services. He wanted me to come. I asked if I could bring my mother.
"You'll be my special guests," said Steven Small, said with his usual warmth.
It was an hour drive for Mom and I to arrive at the beautiful brick church on Dorchester on the South Side of Chicago. Steven had assured us there would be plenty of parking, but it was packed. An ocean of cars in every direction, parked in several lots, on side streets…and we were a half hour early. We wedged ourselves into a hidden, skinny space and walked through the doors.
We were showered with enthusiastic greetings from the church's official hello: "Praise the Lord!"
Each smiling person we met reached out to clasp our hands in welcome. It felt like a wedding, a celebration.  Everyone was resplendent in three piece suits, sparkling jewelry, high heels, beautiful dresses, fedoras, furs.  This was an event. We watched as people embraced and kissed and laughed together like an enormous family.
We were the only white faces in a sea of color.
All day, the face of each person who saw my mother and me brightened in welcome. We were obviously different, but they were so happy to see us. It was humbling. I wasn't quite sure how to respond to each "Praise the Lord!" as I haven't had a very religious upbringing.
I said hello and good morning and squeezed the friendly hands extended to me. The current pastor, Dr. Brazier, chatted with us like he had all the time in the world, rather than a church of 20,000 members to lead. I knew his face so well, he felt like a friend.
When we walked into the sanctuary, I gasped.
It was like a theater, with grace. Soaring wood ceilings, impossibly high brick walls, enormous beautiful birds carved above words of praise. This was worship on a level I'd never seen. A huge main floor was overlooked by a balcony full of happily chatting people. The congregants sparkled and hugged and the energy bounced around.  Mom and I kept looking at each other with our eyebrows raised, smiling goofy grins.
The praise began in song and on a professional level I've only bought tickets for in the past. Singers, musicians, choirs, soloists…3,000 people swayed in worship and joy. Dr. Brazier spoke with passion, reminding each and every soul present that they were never alone. He spoke to all as if speaking to one.
I cried.
A young, lovely soloist sang as if she were borrowed from heaven, closing her eyes and letting her voice soar to a place of grace I've never witnessed in person.
I cried again.
We were welcomed into this beautiful world of history and culture and hope and redemption, when we'd normally just be at home watching TV. An elderly woman wearing an ivory brocade suit and pearls repeatedly got up to dance for most of both services. Her joyful steps reminded me of dancing with my late grandmother in her kitchen. My face hurt from smiling.
In Catholic and Lutheran services, we've said to our neighbors, "Peace be with you."  At ACOG, the people turn to each other and say, "You're important to me."
My portraits were brought out on large easels, each draped dramatically in red cloth. Dr. Brazier asked me to stand to be recognized, my heart pounding.
He leaned over his podium and said, "This is black history month. But black history does not have to be only about slavery or struggle. It can be about our very own history right here—the history of our church."
He went on to captivate everyone with the story of how the church began in 1931, when the first two pastors coincidentally lived in the same six flat building in nearby Washington Park. Dr. Brazier's predecessor had rented a room there with his wife and later, his two children. For 50 years, the previous pastor led the church even through illness before he passed away in 2010. Steven had told me that he's been like a grandfather to him. We'd worked the hardest on that portrait.
It was also Dr. Brazier's father.
As each portrait was unveiled, Dr. Brazier spoke about the church's history and the passion and integrity of each of its leaders. When he removed the drape from the face of his dear father, 3,000 people leapt to their feet and applauded. I had chills from head to toe. He modestly revealed his own portrait that had been presented at Christmas time.
Gesturing to each of the men's wonderful faces, he said, "So… all four leaders of our church once lived in the same building, at the same time."  There was a palpable surge of delight.
Don't you love a family story you haven't heard before?
Afterwards, many of the church members greeted my mother and me. One told me my hands were anointed. Another told my mother she was a holy vessel. Each wondered at the talent God had given me, thanked me for the portraits as if I'd offered them as a gift. (I was paid well for them.)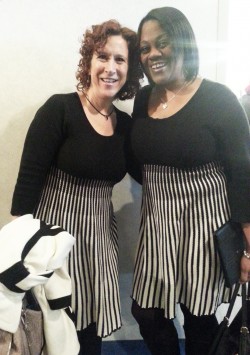 We were embraced and our cheeks were kissed over and over. One woman was wearing the exact same dress as me. After giggling over it, we posed for photos together. I told her she made me feel like I fit in. She told me if she was wearing the same thing as me, she must be doing pretty good.  I mean…oh.
Never in my life, have I had a day of love like this, a day of welcome, a day of acceptance and invitation. The closest thing would be a big family gathering, but never with this kind of power. The energy was unlike anything else. It didn't ebb, but grew.
Between services, we were guided into a private formal meeting room with delicious fruit, pastries, coffee and juice served on a gleaming, polished table. A beautiful room meant for important visitors. And today, it was for mom and me.
"You know," Steven confided over our pastries with a smile, "You might be sitting in the same seat where President or Michelle Obama once sat."  It was actually a portrait of President Obama that had led Steven to me in the first place. There was an undeniable flow to the entire experience.
The second service was more passionate, more energetic than the first. How??
When it was over, after we accepted nonstop invitations to come back and worship with them again, Steven took us to lunch at a favorite nearby Italian restaurant. I tried to grab the check—he's my client, for Pete's sake— but Steven said that the pastor would be mad if he hadn't taken good care of us.
It's Black History Month. I was invited to be a small part of what it means to one beautiful church.
And as I write this, again…tears.
Relephant:
~
Author: Wendy Zumpano
Editor: Travis May
Photos: Courtesy of the author