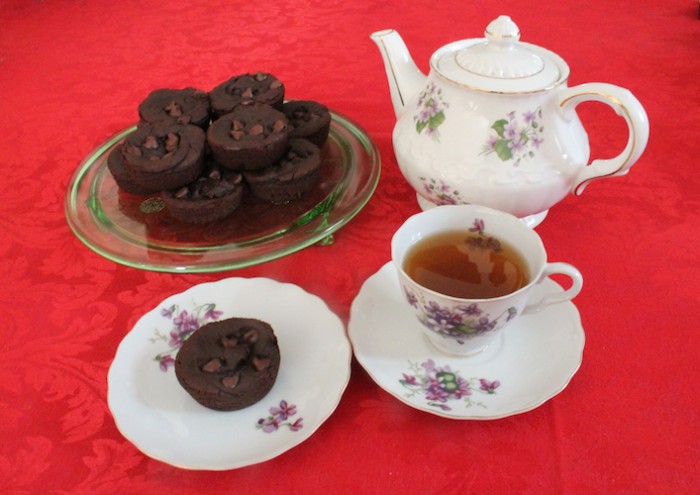 In full disclosure, I'm not a vegan.
I'm not likely to commit to being a vegan. I'm also not gluten-free.
Happily for this Polish girl, I can still indulge in breads and other goodies as long as I remember that moderation is a really good idea. But I'm somewhat adventurous in regard to food, and especially baking. I'll try anything once.
And in this case, I tried it twice.
I took a vegan black bean brownie recipe (and I can't believe I strung the words "black bean" and "brownie" together) and fiddled with it. The first fiddle was a failure.
The second one came together. Enough so that, even while my ever-so-brave, meat-and-potatoes Hubby tasted the first batch, he willingly tasted the second batch, pronouncing Batch Two "the more edible." High praise indeed! He even took the picture for this article for me.
I am a mostly-vegetarian—I like meat occasionally, though for the most part I can take it or leave it. But voluntarily ditching gluten if I don't have to? Oh, please—give me pasta and homemade bread. Give me pierogi, which my great-grandma used to make. Give me my family pastry recipes, redolent in butter, sugar, spices, fruit and nuts.
You need to know that I can never leave well-enough alone. Truly, I can't. A recipe is basically a jumping-off place—which is what my dad told me. My grandma was a "spin the lazy susan and see what falls out" kind of cook and I really miss her chicken-and-dumplings. I swear that she took a crucial ingredient to her grave, because my dumplings closely resemble slightly ovoid bricks while hers seemed to float off the spoon and onto your plate. Even my dogs won't eat mine.
So. Here's my stab at a Gluten-Free Vegan Brownie. I hope you enjoy it.
Some notes:
I make my own vanilla. It's easy as can be: 750 ml of good vodka and about 4 vanilla beans, split. Vanilla beans go into the vodka. The vodka goes into your pantry for about three months. Voila—vanilla without all the artificial stuff in it. Takes a little planning, but oh-so-worth it!
Flax eggs: Who knew? I have a friend who's allergic to eggs and I'll have to pass this on to her. My version goes like this: 1 T golden flax/chia blend + 2.5 T water. Put this in a little dish, whisk it briskly, and set it aside for about five minutes or so. That's one egg.
The Recipe:
1 can (15 oz) organic black beans, rinsed (at least twice) and well-drained
2 lg. flax eggs (see above)
3 T coconut oil, melted (though you can use your choice of oil)
¾ c. cocoa powder (the best you can find/afford)
¼ t. pink salt (can be a little rounded)
1 t. pure vanilla (you can use extract, but make sure it's not "imitation")
¾ c. (rounded) organic coconut sugar
1 ½ t. baking powder
½ t. Saigon cinnamon
Topping: semi-sweet chocolate chips, or your favorite crushed nuts
1.  Preheat oven to 450 F. Prep your flax eggs (see note above).
2.  Lightly grease a 12-slot full-sized muffin tin while your flax eggs are working. Using coconut oil, it takes a scant teaspoon to grease all the slots—just put the solid oil into the individual tins, move it around with your fingers and keep going till they're all done. Make sure your black beans are nice and rinsed.
3.  Put everything in the bowl of a food processor, except for your toppings. Puree, for a full three minutes (set a timer). Scrape sides as needed.
4.  The batter should be smooth, a bit thinner than a buttercream frosting, not runny. If you need to, add about 2 T of water and whiz it again for a few seconds.
5.  Evenly distribute the mixture into the muffin slots. Swirl the tops with your finger to level them out. Add toppings, if desired—push them into the batter slightly.
6.  Bake for 25 minutes (tops should be dry and edges starting to pull slightly away from sides).
7.  Remove them from the oven and let the pan sit on a rack for 30 minutes. Don't remove the brownies for a whole half hour; they're a bit more fragile than regular ones. Use a fork or butter knife to gently remove them after the ½ hour, and let them cool on a rack.
They're fudgy. They're good warm. They're good refrigerated. You can store them in an airtight container for a couple days—refrigerate if you want to keep them longer.
I can't give you the nutritional info because this is a heavily modified recipe. But I can tell you that while they're not exactly my classic from-scratch brownies, I think I can serve them to The Tribe on Christmas and they'll barely blink. Though when I told Kid #2 about this recipe, he said, "How can that even be possible?" I may have to slip him one the next time he's home.
Relephant:
Author: Pat Perrier
Editor: Travis May
Photo: Sidney F. Perrier