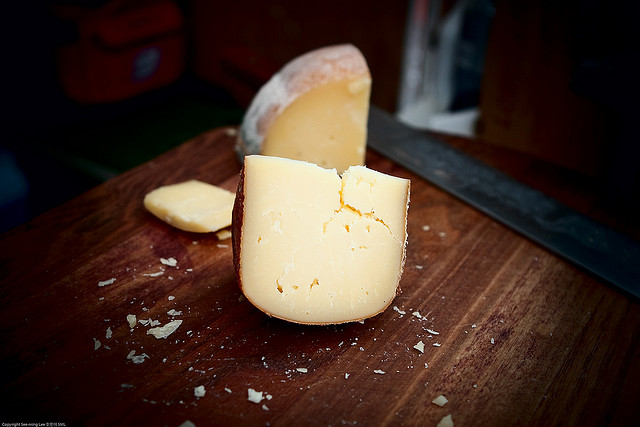 If you're a human attempting to live mindfully, chances are that you spend at least some energy getting to know your food—its sources, social implications and health benefits (or lack thereof)—and trying to make good choices accordingly.
That's awesome, and you should keep doing it.
But just for fun this time, here's a "get to know your food" piece that's not trying to take a stand (although, for the record, I'm generally pro when it comes to taking stands) so much as to brighten your day with a "Huh!" moment or two.
If your constitution allows you to eat it (and sometimes, even if it doesn't), you can't help but love cheese. Get to know your favorite fatty food a little better with these facts.
1. Cheese can be a seasonal food.
I'm not talking about making sure that the cheese you bought for Thanksgiving dinner gets eaten before President's Day. Maybe you've never thought about it this way, but once you do, you wonder why you didn't before. Cheese comes from milk, milk comes from animals, and the exact plants those animals eat on a given day can vary widely depending on the time of year. This means that, even if you can get your favorite variety of cheese all year long, its flavor will be freshest and best during certain seasons.
2. You can make your own at home; it's easy and it's gooood.
Doing it yourself isn't just for the beer brewers! Turns out you can buy reasonably priced, good home cheesemaking supplies and turn around a batch of fresh DIY cheese in a matter of a couple of hours or less—no caves or vats required. Check out companies like Roaring Brook Dairy, which provide what you need and simple instructions.
3. A "Certified Cheese Professional" is a thing.
Also known as CCPs, once I was initiated into the cheese world, I didn't think much of this phrase. Then I happened to repeat the words "certified cheese professional" in line at the coffee shop the other day, and a friendly nearby eavesdropper cocked his head.
Yep, you heard me, sir! Those people weighing and wrapping cheese behind the counter at your local co-op or specialty grocery store have a lot of knowledge to tap into. So much that the American Cheese Society implemented a process for officially designating those who are able to pass a rigorous exam about all things cheese, from production and cheese types to transportation to marketing to regulations and more.
4. "American" isn't just about individually wrapped slices anymore…
When you hear "American cheese," you probably think of pasteurized process cheese food. (Here's a tip: If they have to put the word "food" in the title to convince you, it might not be all real food. Just something to consider.) Just as we credit France for giving us camembert, or Greece for feta, cheese makers in the U.S. increasingly are creating their own original specialty varieties, expanding the family of "American" cheeses beyond Velveeta and Monterey Jack.
5. …and we eat a lot of it.
Okay, this next fact may or may not be fun, depending on your perspective. Do or judge what you will with it.
Either way, according to a report from the Center for Science in the Public Interest released not long ago, Americans' cheese consumption increased some threefold in the last 40 years.
Given fact #5, I'll leave you with some heartening advice I got from one in the know. If you yourself think your waistline, your wallet or our environment would benefit from changing your cheese eating habits, consider this. During what was an especially fun research project, I had the good fortune of interviewing a cheese expert—yes, a certified cheese professional, she was—about the preferences and habits of her customers. I asked her what she wished they knew about her wares. Unhesitatingly, she said she wished more customers could understand what a difference a small amount of good quality cheese can make to their recipes compared to pounds and pounds of Kraft.
Many cheese lovers think they can't afford to purchase quality, local or organic varieties due to the higher price per pound, but oftentimes if they did get the good stuff, they'd be getting more for less. Might be worth chatting with your local CCP and finding out whether that's true for you, too.
Happy sampling, my friends.
Relephant read:
Author: Mary Schlaphoff
Editor: Emily Bartran
Photo: See-ming Lee/flickr