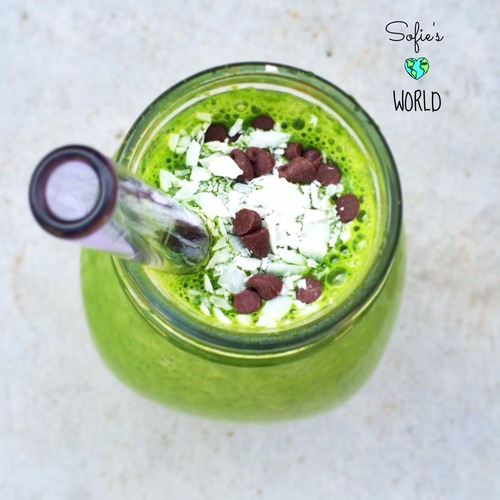 Okay, so I've always had a soft spot for Mint Chocolate Chip Ice Cream.
Even being lactose intolerant, I would suffer the consequences just to get a taste. Now after changing my lifestyle and being an "aspiring" vegan, I have cut ice cream out of my diet 100 percent. It's just not worth the stomach issues anymore.
So with that being said, I was experimenting with ingredients in my fridge and discovered something that not only is healthy for you, but literally tastes just like melted mint chocolate chip ice cream. Yum!
Blend the following ingredients all together:
2 frozen bananas
Handful of spinach
Tons of kale
Fresh mint Leaves
Pitted dates (You can adjust the amount depending on how sweet you want it.)
Vanilla Bean (Or vanilla extract if you don't have vanilla bean)
Dash of cinnamon
2 cups of almond milk
I topped with shredded coconut & dark chocolate chips, but you can add whatever your heart desires!
Enjoy!
Author: Sofie Medina
Apprentice Editor: Kendra Hackett / Editor: Catherine Monkman
Photo: Author's Own