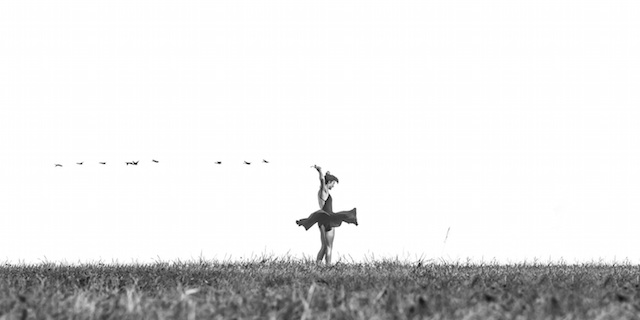 I had the opportunity to offer myself up to self-experiment when I received a breast cancer diagnosis.
Then I decided to dedicate my life to exploring ideas about the power of consciousness over cell regeneration and the effectiveness of creative process as a tool for transformation.
I am not anti-modern medicine by any means, as it has saved my life more than once. I believe in healthy balance on every level. In fact, I am a clinical holistic health practitioner in a hospital setting which very much reflects my standpoint on this.
I am also a dancer, and every dancer knows that rare feeling of a perfectly executed movement—a result of practice, balance and finally surrender to a seemingly impossible feat. It is a divine experience when the dancer intimately knows the supernatural feeling of suspension, flight and unimaginable precision. The moment is fleeting but profoundly transformative.
It was with this experience of and hope for a normally-unattainable feat that I began my road to recovery.
When dancers hear "that's impossible," they will do anything to prove you wrong. By the time I was advised to do surgery, chemotherapy, radiation and a five-year drug regime in order to survive, I was primed to prove otherwise (those options didn't sound good to me). I wanted to offer my body a chance for natural balance after years of stress and lack of self-care. I chose only surgery and denied the other treatments. I was told by doctors I had a death wish.
I stuck to my choices. I then turned my recovery into a living art project by documenting my body over the years with photography and film showing images of strength, vulnerability, flexibility, grace and vitality. I moved and danced and rocked my body and soul back to health. Dance (and dancing with my husband like in the below video) has been a way of turning something ugly and terrifying into something beautiful and motivating. Dance took a situation that ordinarily generates powerlessness and offered me empowerment.
Dance offers me light when there is none. Medicine provides me with extended life by removing malignancy and tests that deliver continued evidence of my health. Creativity allows me to thrive because of the purpose it gives me.
Just past my fifth year anniversary of being cancer-free, the medical field deems my case one of "spontaneous recovery." Frankly nothing about it feels spontaneous, but I have found a place of balance where art and medicine intersect on a deeply personal level in which I can cast myself in whatever role I need. With access to both worlds, I am able to heal; I have the support and inspiration I need to fully move toward life.
I am freer, healthier and more beautiful than I ever imagined I could be.
Author: Tracey Dwyer 
Editor: Caroline Beaton
Photo: Matthew Wiebe/Unsplash