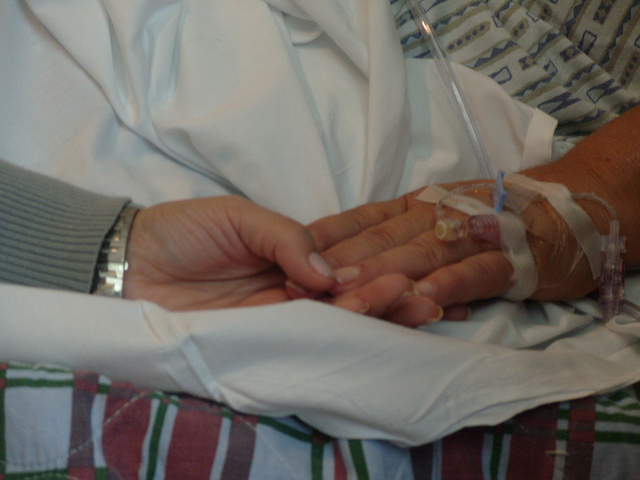 At the time of my father's death, I was the volunteer director at a renowned teaching hospital.
Trying to find out exactly what the nurses needed from volunteers, I had interviewed staff and heard over and over that they didn't need volunteers to hand out coffee or to give out directions and magazines. What they needed was someone—volunteers—to sit with their patients and simply "be with them."
The nurses intoned that they didn't have the time to spend time with, listen to, and comfort their patients—exactly the things which they had become nurses to do. Since they couldn't do these, they were wondering if others could.
As a result, I initiated a program in which volunteers were trained to "listen with compassion" to patients, who were alone—without family or friends, catastrophically ill or even at risk to themselves (such as failed suicide patients).
I studied the various models of compassionate listening, went to several workshops—modeled after the concept—and developed and conducted a training program for volunteers.
The "Listening Friends Program" lasted for nine years and during that time I sat in on all the weekly support group meetings, in which the volunteers shared with each other their various experiences with patients. The meetings were themselves based on the concept of compassionate listening and the rules were the same as they were inside the patient's rooms—no cross-talk, no judgments and opinions. The speaker was always the next one to speak—not the listener.
Throughout the hospital, wherever a Listening Friend visited a patient, the nurses reported the patients feeling less afraid and alone, they rang for the nurses less frequently and their anxiety levels were reduced. Research was conducted to show that overall, the Listening Friends Program was a success, not only in terms of providing comfort to the patients and reducing staff concerns, but also in terms of providing a rewarding and meaningful experience for the volunteers.
Where a Listening Friend was assigned, loving kindness followed.
It was the experience I had with the Listening Friends Program, that I drew upon when I was with my father in his last hours. And it was through that program that I was able to set my own fears aside, of being left alone, and to listen to him without judgment and without opinion and to let him be the next to speak.
And that's the back story (some might say the real story) of Grief Can Be Selfish.
Relephant:
Author: Carmelene Siani

Editor: Ashleigh Hitchcock

Photo: Flickr/Sarah Zucca