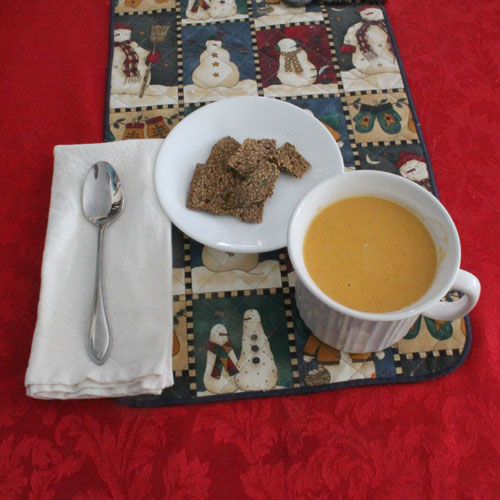 My favorite memories are of spending time with my great-grandma in the kitchen.
Grandma Bajt (pronounced "bite") was about 4' 11" high, and round.
Remember those Hummel "monk" figurines? Well, Grandma Bajt kind of reminded me of them. With her silver-grey hair coiled in a coronet of braids around her head (it dropped almost to her bottom when it was undone), and her apron across her ample frame, she had a smile that could melt ice, beautiful rosy apple cheeks, and hands that were work-warn and soft.
She smelled of Johnson's Baby Lotion—always.
Her accent was something that just felt like home, and I recall most of her lessons vividly. As soon as I was tall enough to get on the step stool she provided so that my head cleared the kitchen counter, I watched (at first) in awe as she seemingly made food appear out of nowhere. We rolled strukle (egg noodles wrapped with cornmeal and butter); we cut vegetables; we made cookies.
One of her favorite comments was, "You be careful of knives. Knives are your friends but you must respect the sharpness." After a while, I could help her by flouring the counter as we rolled out hand-made noodles. When I graduated to peeling carrots, I thought that I was immediately going to "cooking school" to become a great chef.
She taught by example, and would go over something patiently till I got it.
I can't tell you how many times I peeled a potato just using a paring knife till I got it "just so" and only the peel. It's a skill that she thought was important, and I've taught it to my kids as well.
Grandma Bajt taught me to work with what you have. To this day, I can usually pull a meal out of thin air. Thus, my Butternut Squash soup. I love butternut squash. I love it roasted; stuffed; cubed and sautéed; pureed or mashed. You hand me a butternut squash and something good will come out of it.
I had a squash sitting on the counter today, and it's a typical February day in Illinois this year: snowy and cold.
Here's my take on a Butternut Squash Soup using what you have in your kitchen.
Notes:
In this vegan version I've said to use margarine, but the original recipe calls for butter.
You can always make your own veggie broth. I leave that up to you. This is the "down-and-dirty" recipe, so I'm using veggie broth cubes. Just buy good ones if you're not making your own stock.
I use a stick blender here, but if you don't have one, a regular blender will work—just do it in batches and be very careful because hot liquids in a blender can be a safety hazard.
Don't fill the blender container more than half-way (I'm sure you know that, but I just want to keep you from scalding yourself).
You could use chicken stock if you wanted.
You could crumble bacon on top. That's also your choice, and makes this, obviously, a non-vegetarian recipe.
Butternut Squash Soup
6 c. water
2 Knorr veggie cubes
1 large butternut squash
1 c. chopped leeks (You can use onion if that's what you have. I had leeks.)
1 lb. carrots
1 Granny Smith apple
1 red apple, variety your choice
1 T. (scant) herbs de Provence (try to find a blend that doesn't have added salt)**
1 t. pink salt (or whatever salt you have)
½ t. fresh ground pepper
6 stalks of celery
1 t. dried lemon peel
1 T. olive oil
½ stick of margarine
½ 1 cup of good half & half
Peel and chop the carrots; set aside. Chop the celery; quarter the apples, removing the core but don't peel. Peel and clean the butternut squash, chopping roughly.
Add the olive oil to a large Dutch oven or stock pot and heat over medium heat. Add the squash, salt and pepper, and stir it around, covering. Let that cook about 5 minutes, and then stir some more—you want to get a little color on the squash.
If you're organized and you've done all the prep work in the first paragraph, you can relax and watch the squash cook. Otherwise, if you're like me, you're doing the rest of the chopping as the squash is browning…
Add the chopped and peeled carrots to the squash; stir it around and get some color on that (about 7 minutes or so). Then add the remaining veggies and apples, dried peel, plus the herbs. Stir this around and let it get some color for about 5 minutes or so. Add the ½ stick of butter here, put the lid on it and walk away for 5 minutes.
Come back, pour the water over all of it, add the veggie cubes, and put the lid on it. Simmer for 10 minutes. Stir after the 10 minutes and continue to simmer till everything is just past fork-tender—time here depends on how large or small you've chopped everything. Once it's soft, remove from the heat. Stir in the half-and-half—the amount is somewhere between ½ and one cup – your choice. Whiz it with the stick blender till it's the consistency you want. Taste it; adjust salt & pepper as you desire. Serve.
It also freezes well.
Main course portions are about 6. Lunch-sized soup portions are about 8.
**If you don't have herbs de Provence, use your favorite herb blend. Note that this is a sweeter soup, so you could even use a combination of cinnamon and ginger or a curry blend.
Served in a lovely mug with a slice of rustic bread or your favorite crackers, this soup will keep you warm inside on even the coldest of days. Having this handy in your freezer means you can enjoy it any day of the week when you want something home-made and delicious.
Relephant: 
Author: Pat Perrier 
Editor: Renee Picard 
Image: via the author