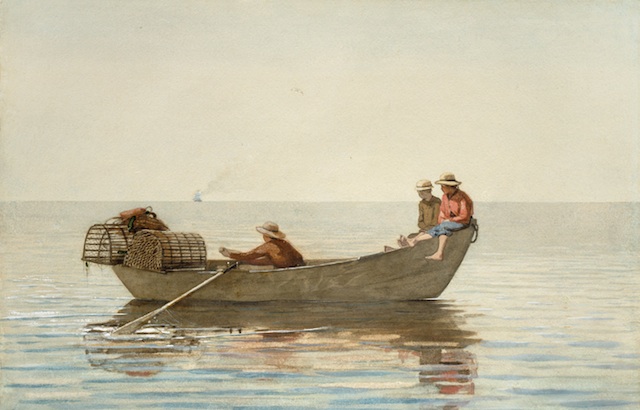 Summer, 1984: we are at the lake and time is immaterial.
Or so it seems.
Since 1978, our family friends have lived on a Maine lake and we are frequent visitors. They have lake access, a dock and a nifty little power boat, a mustard yellow six-seater. They are often at my grandparent's farm for cookouts, and we are usually at the lake for aquatic downtime.
On this night, myself, my brother, Eric, and our friend, both two-years-older-than-I, and our friend's father are drifting on the lake, outboard motor cut off. After a late afternoon of water-skiing, fishing and testing the upper limits of the speedometer, we are now simply drifting.
The sun is starting to go down in summer pastels. A low trail of smoke from campfires and charcoal hangs over the lake. Surrounding the dead-calm water of the lake are perfectly manicured lawns, cabins and houses, deep dark woods and gentle hills, one with an antennae that I always focus on—I love watching the aerial light blink.
A wood-paneled cruiser passes us slowly, its engine making a gentle put-put noise that is perfectly befitting.
We had been cruising and playing. Now we are just being, slowing down to take in the lake and the light and this gloriously perfect summer night in Maine. Jim Croce's "Time in a Bottle" runs through my head, and at 11-years-old, I have a revelation—I feel that I get it.
I understand the feeling of wanting to lock these important memories in a box and hold on to them forever. Time in a bottle—snapshots to pull out much later.
With this understanding, I also feel that I get the importance of holding on to these things, these esoteric moments, and keeping them until the time is right, until the words to describe the scene can come naturally, empirically, perfectly.
This scene, now many decades in the rearview, strikes me as a perfect snapshot of the awareness of self and surroundings that would lead me to my current path of mindfulness and Buddhist thought.
It was just a moment—a fleeting speck of time with seemingly no real-world relevance.
But, it was a beautiful moment, and I needed it. I needed to keep it, to completely immerse myself in it, to hold on to all the colors of the sky and the smell of smoke and the song in my head at the time. At eleven, I was already being in—and cataloging–the moments of my life.
This one night, this one sunset, has not existed outside of my memory bank in the 31 years since it happened, and I'm a little breathless at the thought of letting it go—released to the world like a new car or a new flavor of potato chips.
And on the surface, it's about as significant as those material things. Base elements of daily life: a sunset, water, a little smoke.
But in terms of what that scene meant to an emerging 11-year-old mind, and the lessons I've taken from the experience, it's incalculable.
Time is never immaterial. All we have is right now. Hold on to it. You'll need it later.
~
Relephant Read:
~
Author: Brian Westbye
Editor: Asheigh Hitchcock
Photo: media library