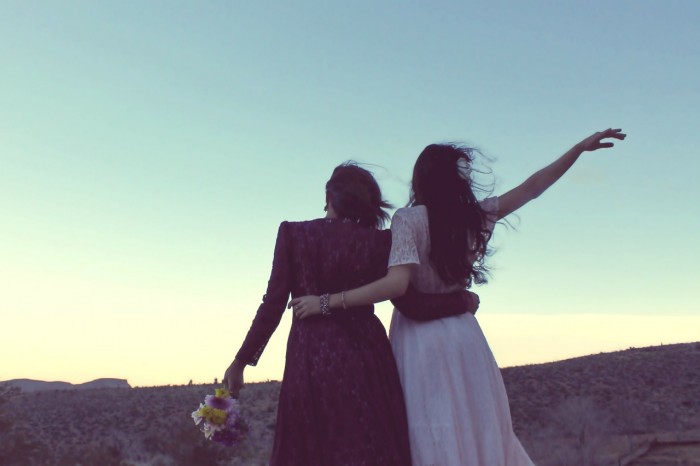 The first time I heard "Renegades," a new(ish) single by the X Ambassadors, I got goosebumps so big they grew into wings.
Maybe that sounds disgustingly cliche, and maybe it is, but I can't deny my intensely guttural, open-hearted reaction to this breezy, spirited song.
It's the kind of soaring tune that makes me want to miraculously pile everyone I know into my little red car, drive off into wild, whipping gusts of wind and stare at mango-colored sunsets for so long while making tons of trouble.
But, I don't want to make trouble just to make trouble.
No.
Because this song, this little song, it reminds me to think with my heart and make the kind of awe-inspiring, life-changing trouble that breaks through brick walls of bullshit and fuses souls back together.
More than anything, though, this tune makes me want to stand proudly on jagged mountaintops and declare who I am to no one but the breeze.
I want to scream each lyric with gentle fierceness and remind myself that it's okay to be weird as fuck; that it's okay to be wild; that it's okay to be me.
I want to celebrate all of the yummy, free-spirited, rebellious things the world has tried to beat out of me.
Try as it might, it can't succeed.
Because wildness can't be deleted or tamed or made to stand still.
It's damn near impossible.
Wildness runs too fast and dances too hard to be caught by any fine-fibered net.
But, you already know that.
So, if you're a fellow free-spirit or a wild one or a lost one or a wandering one (or not!), let's walk arm in arm and break a few rules together.
Let's roar with reckless abandon and walk boldly into unknown futures.
Let's crank up this song, skip like kids on chalked sidewalks, and remember who we are.
Let's feel each guitar strum tickle our souls and ignite our craziest dreams.
Let's feel the sweeping vocals seep deeply into our bloodstreams and set us sweetly on fucking fire.
"All hail the underdogs
All hail the new kids
All hail the outlaws…
It's our time to make a move
It's our time to make amends
It's our time to break the rules
Let's begin…" ~ X Ambassadors, "Renegades"
Relephant bonus:
Relephant:
~
Author:  Sarah Harvey

Editor: Travis May
Photo: Pixabay