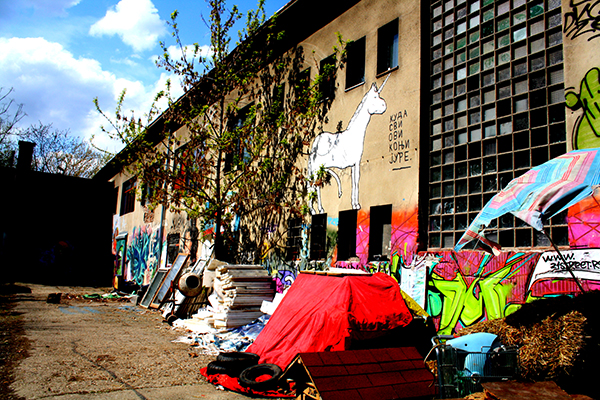 Squatting (vb.) the practice of settling on or occupying property, especially otherwise unoccupied property, without any title, right or payment of rent.
I'd like to begin by asking you an important, albeit unusual question.
Given the choice, would you squat?
And no, I don't mean crafting thighs of steel. I mean the real, raw, honest deal.
If you answered no, then why not? Whether you have pre-conceived ideas about squatter settlements or the types of people you may come across there, it all boils down to one and the same thing.
That thing, my friends, is fear of the unknown.
Now I know, for sure, how difficult it can be to take a leap of faith into unchartered territories without the aid of Google Maps to light the way. But stop for just a second. Can you honestly think of one single time when conquering your fear has not been absolutely and amazingly worth it?
Prepare to forget everything you think you already know about life in a squat. Here's the lowdown on how getting over your fear can lead you to diamonds in the dark.
After touching down in Belgrade a few days earlier than expected, organising and co-ordinating multiple last minute Couchsurfing hosts for all six of us was proving to be quite the challenge.
After yet another negative response and as the WiFi cut out again in the cafe we were working in that evening, Angie's suggestion of "why don't we just stay at the squat tonight?" suddenly seemed a bit too close for comfort.
Whilst I'm all for new experiences which broaden the mind, the prospect of spending the night at an Eastern European squat sent me straight back into regression as I pictured the concrete, soviet-era building which was to be our digs for the night.
With my mind in a severe state of negative overdrive, I envisioned every single horrendous eventuality which would, most definitely be inflicted upon and which would, undoubtedly, be perpetrated by a gang of undesirable graduates from the school of life's hard knocks.
Ringing in my ears like a doomsday siren, even the positive endorsements of the experience we had garnered on the road did little to appease my overwhelming sense of unease.
Flourishing language aside, to be frank—I was shitting myself to be squatting in Serbia.
Fast forward to now and with the benefit of hindsight, I admit that my fears proved completely unfounded. In reality, Inex Film squat is a rough diamond that is well worth getting over your fear for.
This former film studio was resurrected from ruin and filled with positive energy in 2011, when an action group came together to restore the abandoned building and host discussions, exhibitions and festivals.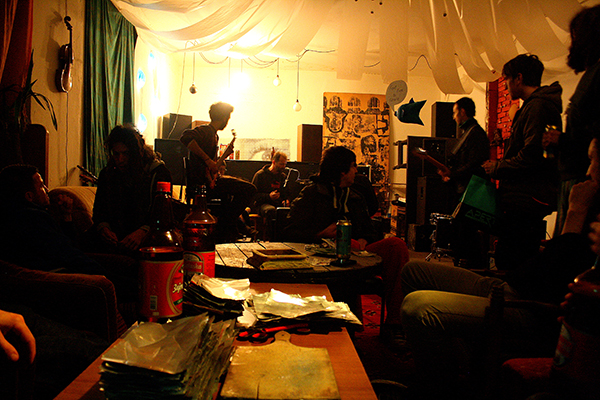 Nowadays, the cold, dungeon-like labyrinth of echoing stone rooms and halls attracts artists, writers and musicians from far and wide by giving them an alternative space to express their creative flair.
Stepping in through the heavy, iron doors, I left my pre-conceptions outside where they belonged, as we were welcomed with some pretty special Balkan hospitality. Breaking into a smile of recognition, Dragan, a severe looking Serb who calls the shots, exclaimed, "You came back—now, let's go party!" as he poured us some rakija.
We gladly peeled off our outer layers as we entered the atmospheric and den-like lounge, the warmth of the fire hitting us like a welcome embrace on that cold spring night.
With the heady mix of cigarette smoke and rakija engulfing our senses in the dim lighting, we took in the exuberant art work plastered on the walls and kicked back to the reverberations of the low-key jam session led by a crew of dreadlocked rockers.
Picking up his guitar, Dave, a travelling poet from Israel started practicing a beat with another squatter who strummed the rhythm in support of the melody. In witnessing them work together in sync to create a perfectly synchronised harmony, we were transported right into their world as they illustrated their memoirs so poignantly through music.
Fascinated to discover more, I asked Dave,"What brings you to Inex Film?"  Opening his eyes and reluctantly returning to the present, he captured the squat's vibe perfectly, "I came here because it's a hub where artists can live a life of freedom and express themselves through creativity."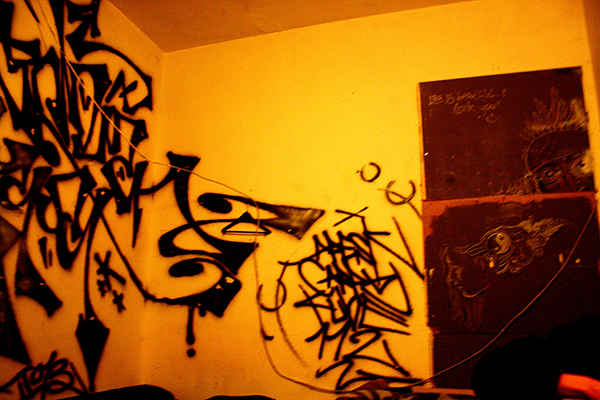 And creative love was certainly all around us. Glancing over at my friends, I realised, with a smile, that they were immersed in cutting fish shapes out of hundreds of flattened beer cans, to be crafted into one huge artistic masterpiece, just in time for the squat's impending birthday celebrations.
Having unearthed this hidden diamond from the depths of Belgrade's alternative underbelly, I'm so glad to have experienced the underground, unknown and unconventional.
This squat's community atmosphere and emphasis on embracing creative passion, whilst living a life of freedom is, simply, a left brainer's paradise and is the beating heart of what I believe, is important in this world.
So I hope you agree that everything you've never heard about squats is true. Here's one last realisation from my time spent at a Serbian squat:
"Live out your fears and go towards what scares you most, for you wield a pretty powerful weapon by focusing on what will go right, instead of what might go wrong." ~Lyndsay Scott
Relephant:
Author: Lyndsay Scott
Volunteer Editor: Kim Haas / Editor: Catherine Monkman
Photos: Courtesy of author.